Scanmudrings's core business is removal or relocation of any type of seabed soil or objects close to future or existing subsea installations. Type of soil will vary from project to project, and so will the Scanmachine set up.
Sometimes there may be preparations for one thing, for example sand, but another material is encountered offshore, like clay. Offshore conditions require special considerations and adjustments must be made. You must choose the most challenging conditions when it comes to the setup, as otherwise this may be a limiting factor. Large stone, clay and sand – what do you choose in relation to ejector size, additional tooling etc? 
With built up experience of more than 50,000 hours on the seabed, it's for a fact not only seabed material present, but also various objects and obstacles. Surveys may help planning these operations, but often multiple tooling are brought offshore to prepare for everything.
Below we have focused on some key factors/challenges for some of the subsea challenges one should consider: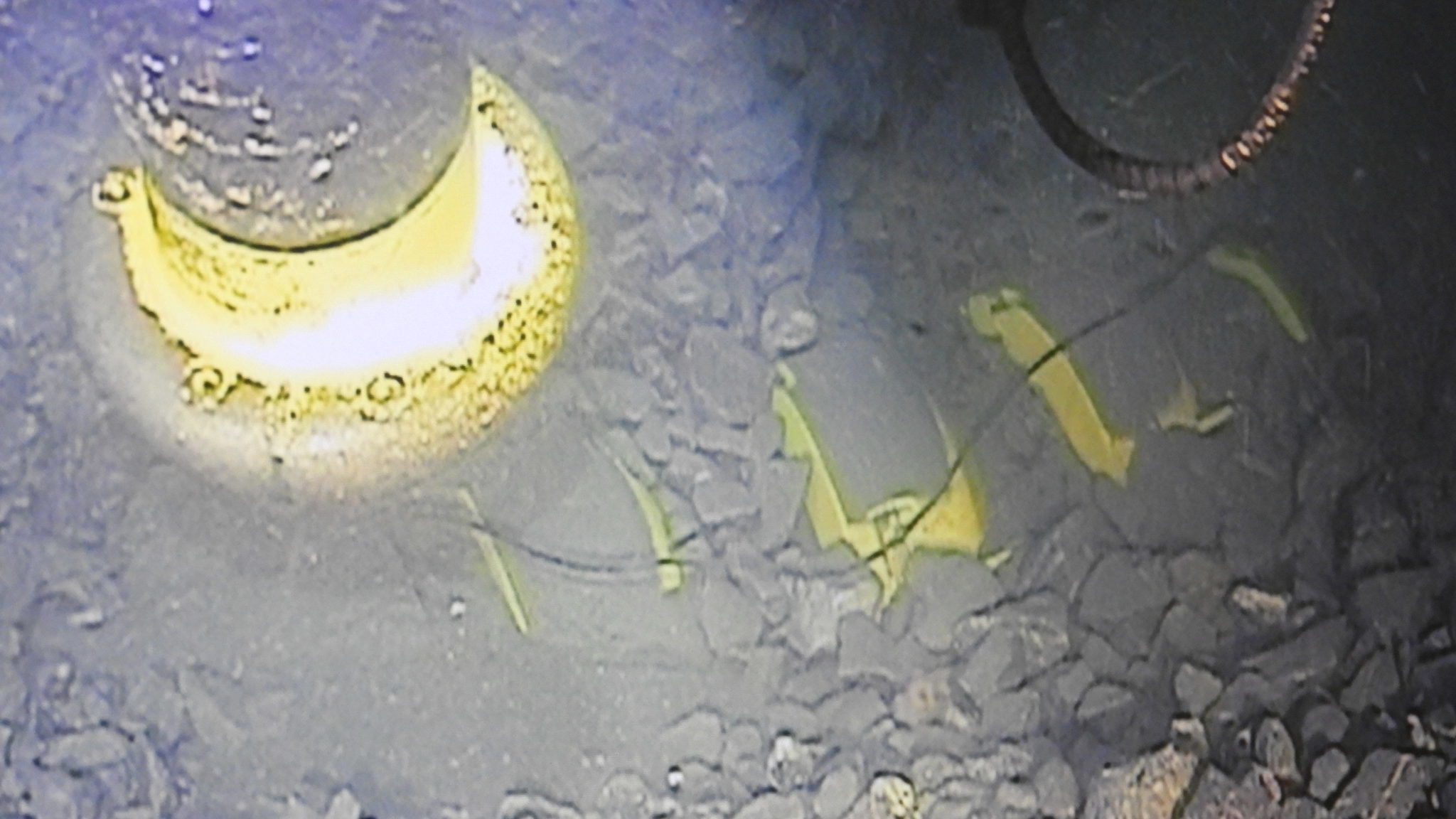 Image Caption: Rock removal to expose pipe
Image Caption: Rock spreading behind excavator
Rock size is a key factor when selecting ejector size – recommended 2 – 2,5 times the expected rock size on the ejector to prevent clogging
Slope/ levelling is easy with stone as the chance of backfilling is limited (as compared to sand)
Usually +/-5 cm is achievable with sandy material, but tolerances for rock removal are dependent on stone size
Levelling of rock/ gravel has been achieved down to +/- 2 cm
A key challenge is that removed rocks accumulate behind the machine, while transport over longer distances (in excess of 50m) will affect performance.
Better performance rate can be achieved without use of exhaust hose.
Usually visibility is good while dredging in rocks
Rocks can be backfilled if required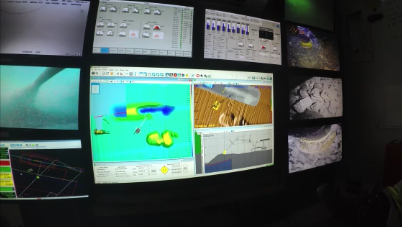 Image Caption: From control room during rock removal 
Image Caption: Scanmachine launched for high tolerance levelling of gravity based foundations at Offshore Windfarm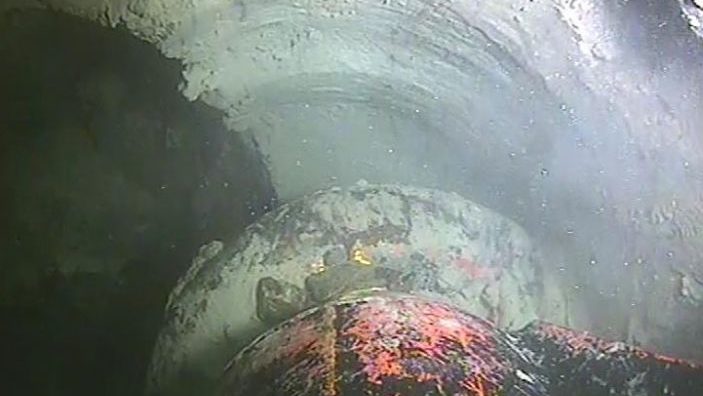 Image Caption: Dredging clay
Mechanical solutions are often utilised to increase capacity in this material. Tooling such as Scanchrusher, teeth and slicers are commonly used.
Jetting is also used to loosen the clay, and is often preferred near live assets to avoid contact
There are many varieties and consistencies of clay. Knowing the Kpa may help planning the operation
It should be noted that clay also has the potential to collapse
Clay is easy to transport over distances– it spreads easily behind the machine
Dependent on current, visibility can be a problem when dredging this material
Subsea cleaning of the machine to reduce deck handling should be considered
For significant volumes of clay and other challenging material, the ScanROV GHD-10 has proven its excellence

In sticky clay, there are no other tool that are close to the capacity achieved and proven by this solution, this system is in the range of 3 – 6 times more effective than other existing tools in the marked
Image Caption: 10m3 Grab open and closing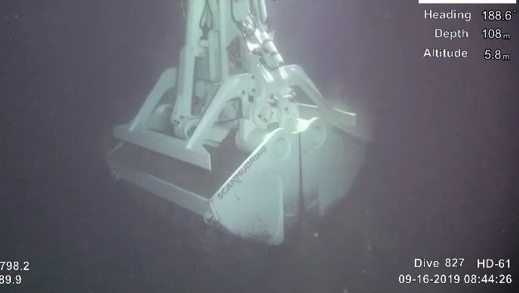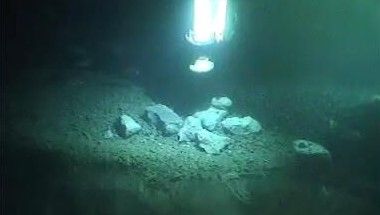 Image Caption: Boulders picked up and dropped by Scanmachine
Boulders can be removed using various equipment and tools, efficiency and method depending on size and volume

Boulders may be picked up and dropped using the Scanmachine dipper or by using a grab mounted to the machine

Larger grabs may be utilized

Very large rocks/boulders may be demolished using a combination of drilling, hydraulic splitters and e.g. ripper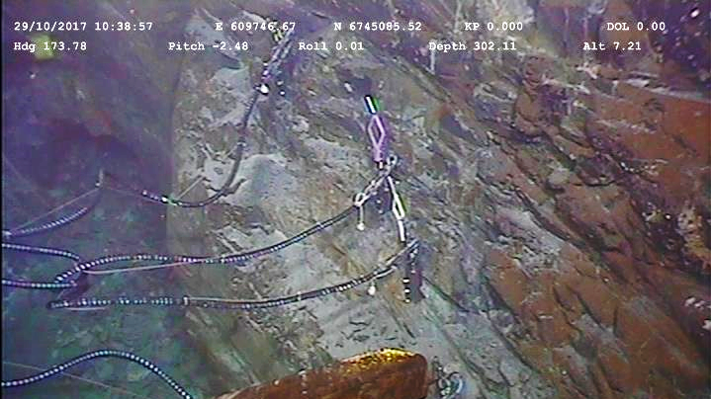 Image Caption: Rock outcrop removed using drill rig, hydraulic splitters (placed by ROV) 
Image Caption: Spudcan dredging in sand
Sand has a low natural angle of repose, which means a great deal of mass must be dredged when dredging deep (a great difference between 1 and 2 meter depth)
Dependent on current, visibility can be a problem when dredging this material
Sand is easy to transport over distances, and a good capacity can be achieved without an exhaust – it spreads easily behind the machine
A somewhat bigger challenge can be encountered when it comes to flattening an area. There is also a greater challenge with regards to tolerances when compared to stone
Image Caption: Scanmachine with Chain cutter working on hard pan
Hard Pan presence and distribution is unpredictable.  This is evident in subsea project work conducted to date
Consists of cemented material with a well graded sand to a silty, fine sand matrix.  UCS range typically 2 to 2.5 MPa UCS
Typically present within various layers of gravel lag, glacial till, sand, cobble, stiff to hard clays and boulders
Large variance in the geotechnical conditions make excavation and trenching challenging
Various mechanical, suction and jetting techniques used in the past with varying results
Scanmudring solutions can improve economics and technical feasibility for excavation and trenching projects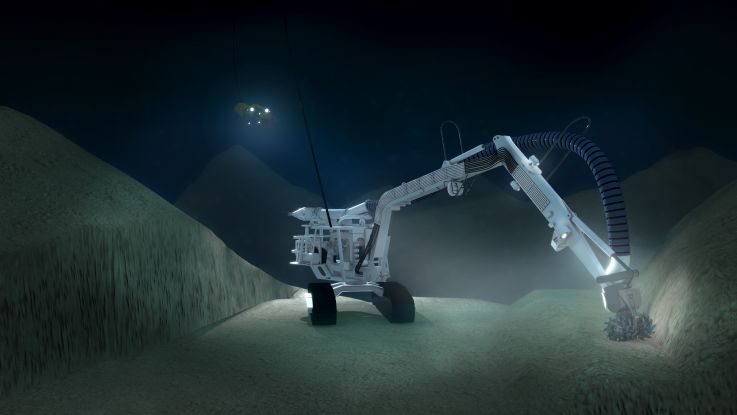 Image Caption: Grout removal with cutter drum
Grout is concrete-like and often strong power is required to loosen up the mass
Grouting / concrete can be removed by breaking the grouting/concrete into smaller pieces by use of ripper-teeth's mounted on the suction nozzle
Rotating cutter drum with teeth and suction can be an option if amount of grouting / concrete is more than the ripper teeth can handle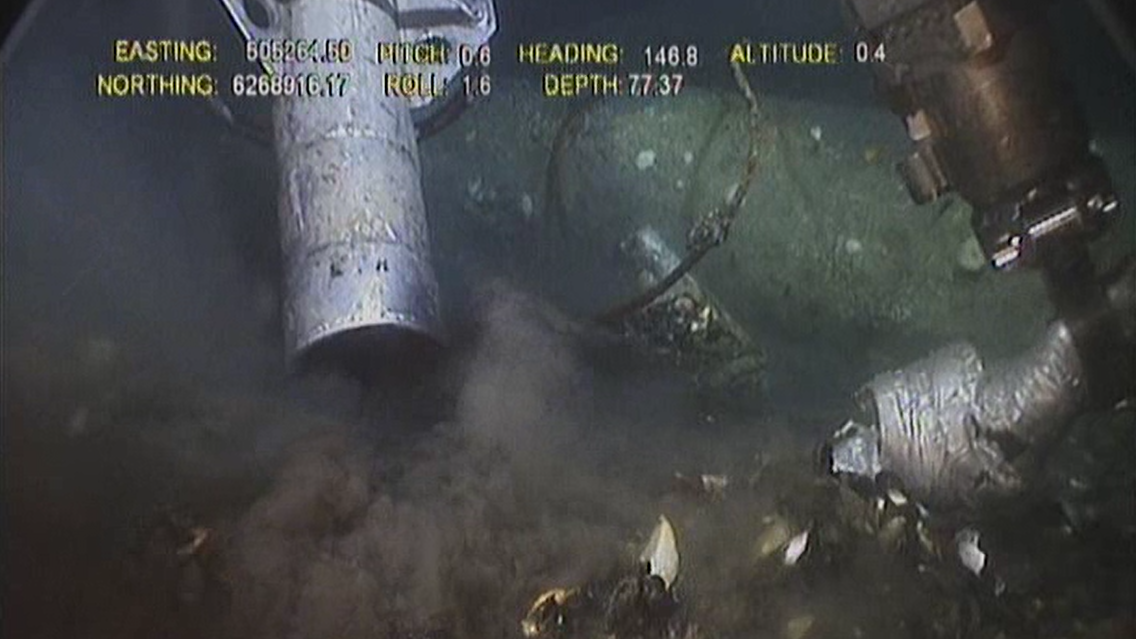 Image Caption: Drill-cut removal with debris present
Where there is drill-cut there is often debris present, which needs to be re-located during the dredging operation (thus affecting the dredging performance).
There are several types of drill-cut which means it can be difficult to predict the consistency
Some drill-cut is sticky, which means that objects/debris may be hard to remove
Subsea cleaning of the machine to reduce deck handling should be considered
Drill-cut is easy to transport over distances– it spreads easily behind the machine
Usually drill-cut is an acceptable surface to relocate the machine by using tracks, but could be a challenge if consistency is sticky
Dependent on current, visibility can be a problem when dredging this material
Image Caption: Debris removal
It's important to prepare and consider the amount of debris during project planning as this will affect the dredging capacity
The Scanmachine can lift "larger" debris by using a gripper mounted on the suction nozzle, while the ROV working in collaboration, can relocate the debris to a safe deposit area for later handling if required
Clogging of the suction hose can be avoided by utilizing a backflush unit mounted on the ejector, reversing the water flow and blowing out the obstacle clogging the hose
Strainer on the suction nozzle inlet can be mounted to avoided big obstacles to enter the suction hose
Dependant on condition, some older grout bags have been removed only by suction, while others have necessitated the breaking of the grout bag into smaller pieces prior to re-location by suction
The challenge is often to predict the condition, but prepare for everything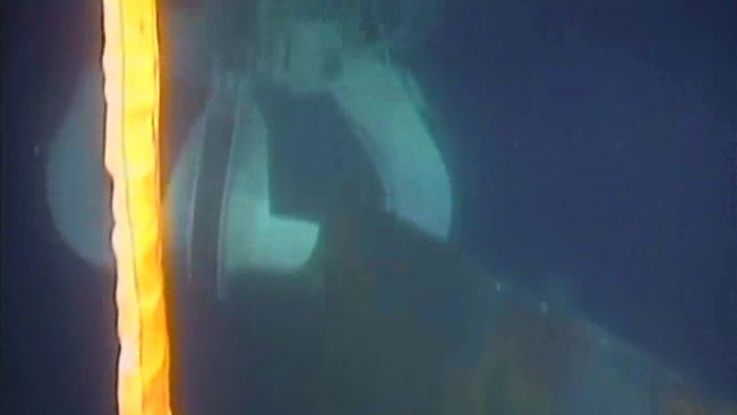 Image Caption: Cofferdam removed by Orange Peel Grab
Heavy cofferdams with unknown conditions have been relocated by the orange peel grab
To facilitate the lift, the area around the cofferdam was dredged with Scanmachine, and then the cofferdam was lifted in two parts by the grab to a dedicated wet storage area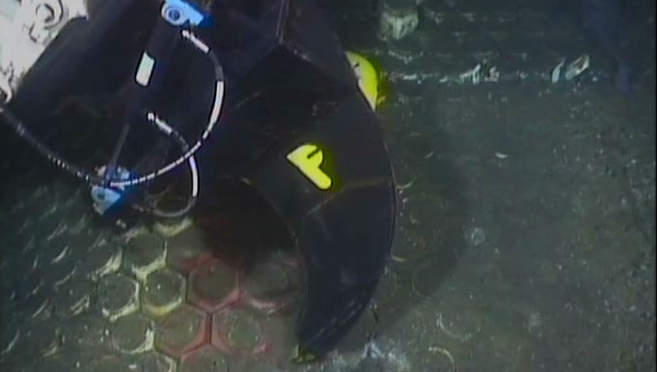 Image Caption: Ripper hooking on mattress
Concrete mattresses have been attacked in several ways, dependant on their condition 
Sometimes the seabed underneath a concrete mattress is dredged in order to let the mattress sink below seabed level
Using a big ripper tooth has proven to be a success; the ripper has hooked into the mattress and then pulled it away or pulled the mattress into smaller pieces for easy removal. This operation requires a strong and stable subsea excavator.

A dozer-mounted winch used in collaboration with a ROV to winch the mattresses away is also an option
Image Caption: Subsea Winch mounted on Scanmachine 15Te
Experience, expertise and knowledge have guided the development and evolution of Scanmudring's unique portfolio of heavy duty, high precision subsea dredging and excavation equipment.
Each system has been created to perform operations with a high level of efficiency and reliability with focus on meeting the highest safety standards.  This has paved the way for successful operations with zero harm to personnel and the environment.
Scanmudring's services are as flexible as the challenges our customers face, and despite being in the business since mid 80's, new equipment and tooling are still being designed and produced to meet project specific requirements.