Designed for advanced subsea dredging and excavation
Over the years, Scanmudring has maintained our dedication to designing, building and operating our advanced subsea dredging and excavation equipment. This commitment has resulted in an unbeatable portfolio of versatile, robust and high-precision technology, capable of achieving the best results in the harshest environments.
Cutting
Tailored to each assignment, our variety of cutting equipment is a critical part of delivery.
Excavators
The Scanmachine subsea excavator and tool-carrier system transfers proven land-based technology to the seafloor.
Soil Plug removal tools
Various tools for various pile sizes and soil types
ScanHub & Standalone Dredgers
Reliable subsea power & control station, offering simultaneous operations, typical dredging, jetting and power/signal distribution station.
Bespoke Solutions
Engineering at our core, the experience to take you further
HP Jetting & Cleaning
Scanmudring has a range of industry-leading high-pressure pumps with capacity up to 188 litres/minute and 2000 bars.
ROV Dredges & Tools
The ROV dredge system, an advanced add-on dredging kit, fits on most common Work Class ROVs.
Drilling/Coring System
We use deepwater drill-rigs and tooling in various dimensions for core sampling, drilling blaster holes or drilling for bedrock anchors and bedrock removal.
Grabs
Several grab solutions available for boulder removal or other objects, as well as the relocation of large volumes of soil.
HD Tool-Carrier
We designed our underwater multi-tool system to work with a variety of heavy-duty tools.
Scanmudring has developed a new abrasive cutting system and internal cutting tools together with known suppliers. It has a dedicated cut verification system, designed based on standard abrasive suspension systems and internal cutting tools ranging up to 120 inches.
Scanmudring Abrasive Cutting System (SACS) – the safest, most efficient and advanced abrasive cutting system on the market.

Over the last two decades, digitalisation has been an essential factor within manufacturing and operating various equipment for the Oil & Gas industry. Scanmudring has digitalised all aspects for the full abrasive cutting spread including the Scanmudring Abrasive Cutting System (SACS), HP pumps from Hammelmann, winches, HPPs and the internal cutting tools.
Press image for video: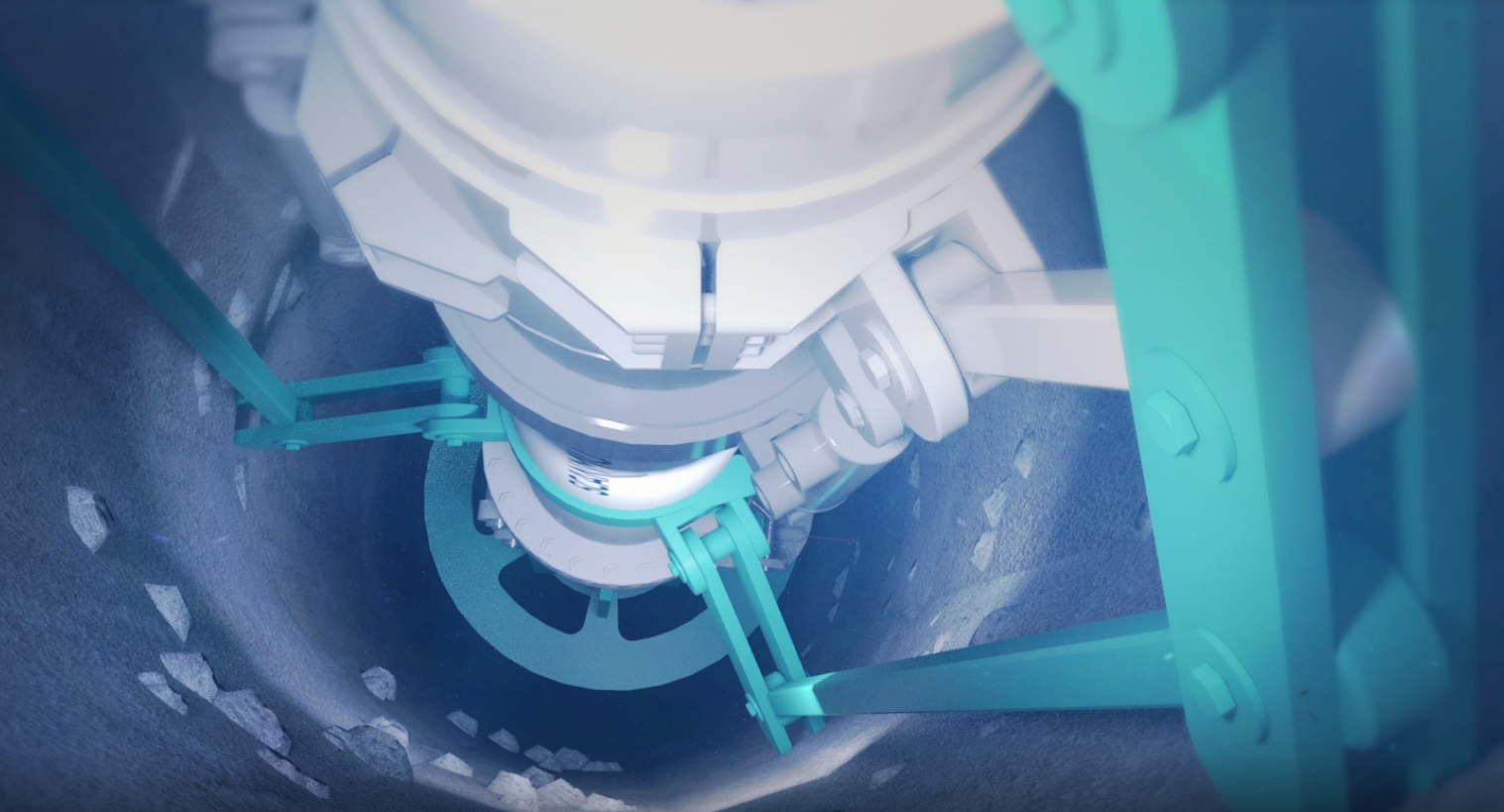 Having a holistic approach for the full cutting spread and including all parameters for all components in the spread gives us complete control of all parameters during the cutting operation. Some of the parameters that are monitored in the cut verification system are in- and outlet pressure, grit consumption, tool movements, cutting depth and rotation, in addition to visual feed from cameras following the cut and sound, to mention some.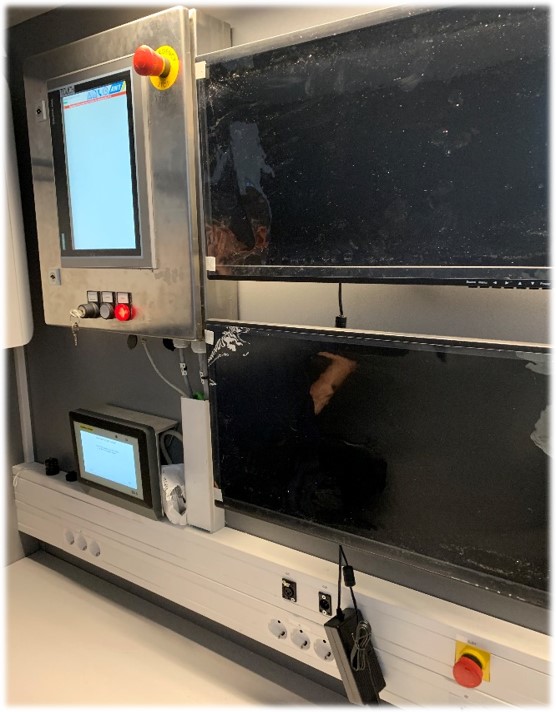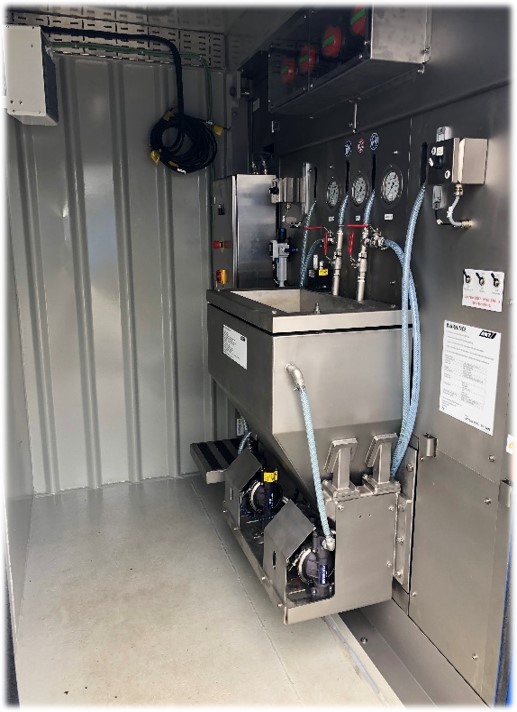 ICT – Scanmudring Internal Cutting Tool
The internal cutter pile cutter performs internal cuts in various dimensions. It will be standard tooling and the same opportunity methodology developed over the last 20 years.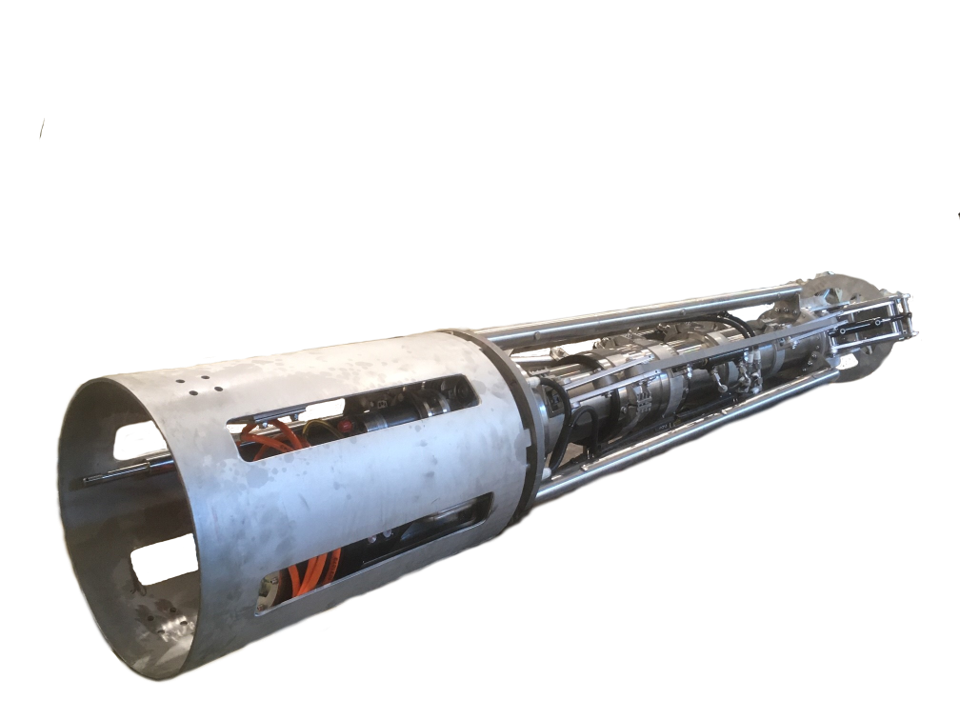 Scanmudring provides off the shelf and bespoke designed diamond wire cutting solutions.
Our standard saws range up to 100 inches. Our wire cutting machines can operate at depths up to 3000 meters. It can be powered from both topside with a separate HPU and umbilical or subsea via Work Class ROV and can be used with and without buoyancy.
Scanmudring has digitalised the control unit for increased control, safer cuts and higher efficiency.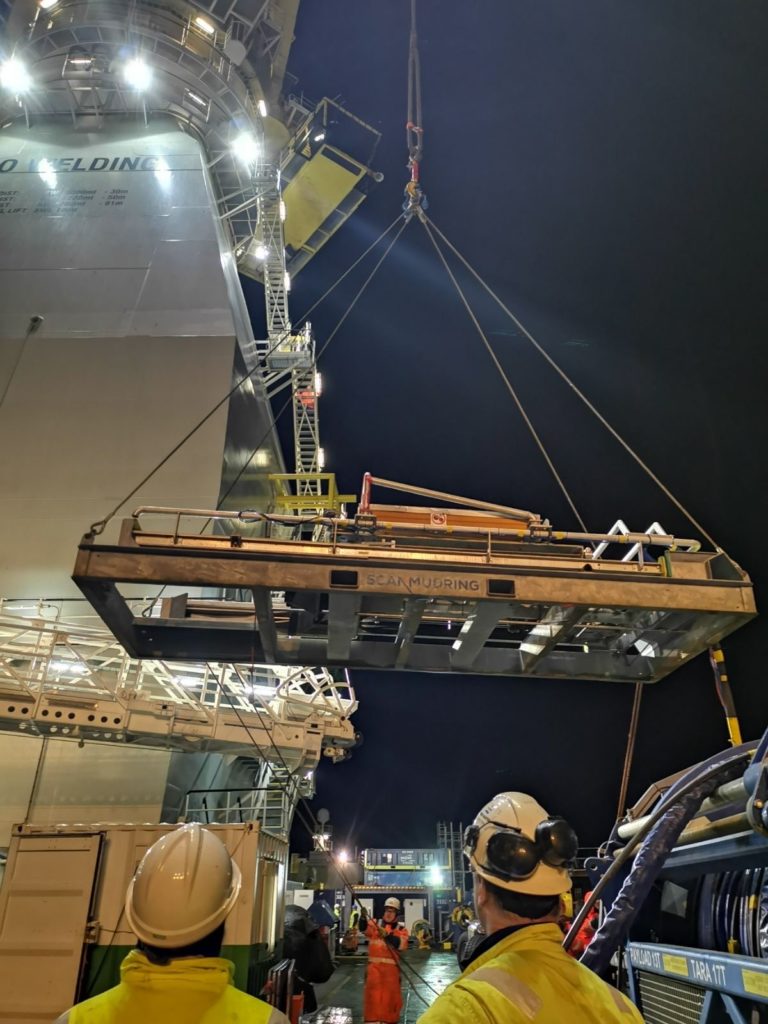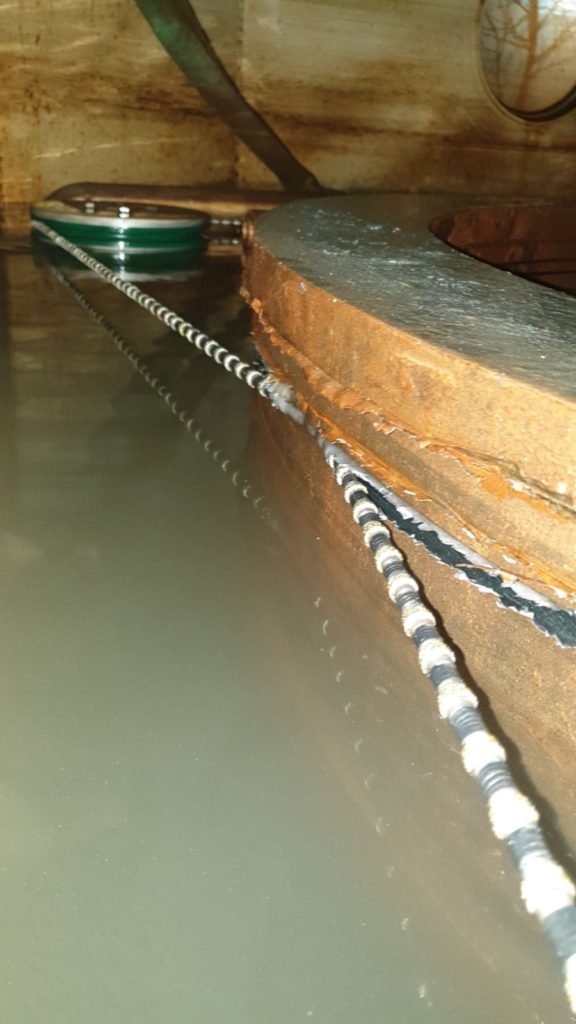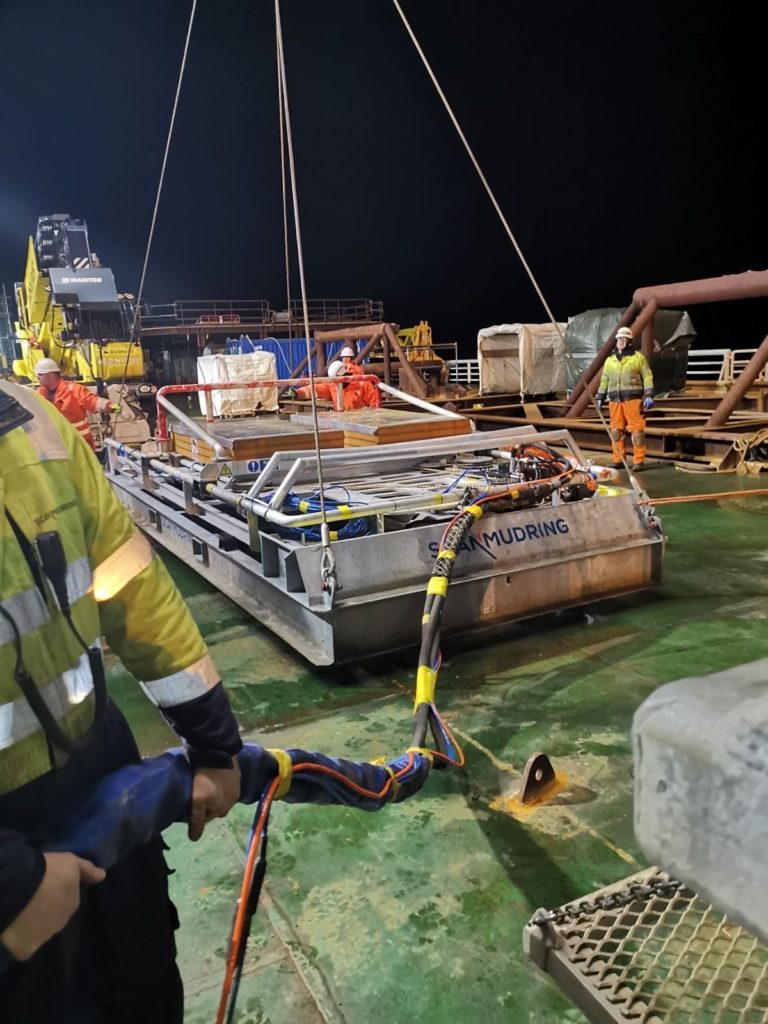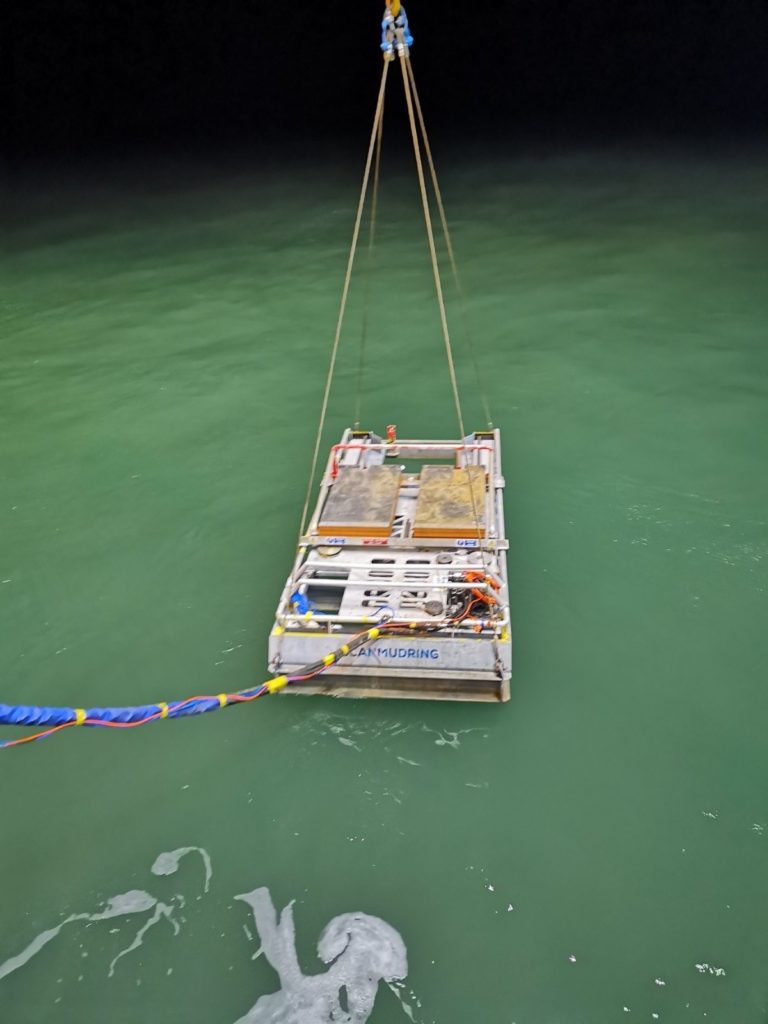 The Scanmudring diamond wire saws are in-house design and work with extra wire magazines for increased wire length. Use of magazines makes it possible for us to deliver smaller sized saws than usually provided when you need to cut multiple tubular or through thick steel members. Increased wire length will also increase cut efficiency, safety and ability to do more cuts with the same wire.
Scanmudring shear cutters adopt qualities from the best hydraulic shear supplier in the onshore segment.
The idea of adapting onshore demolition methods offshore is something Scanmudring do with pride. There are several hundreds of cuts done onshore for each one offshore. Adapting the lessons learned and solid, proven design that make it subsea friendly is part of the Scanmudring philosophy.
The shears cut pipelines, braces and most tubular and non-tubular members in an efficient manner. The shears have also proven to be efficient for cutting of materials such as umbilical, I-beams, channel iron, steel plate, wire, rebar and concrete. The hydraulic shears also lift pipeline/bundle sections into subsea baskets on the seabed. The shears can be mounted on our Scanmachines or deployed via crane and topside powered with umbilical. Typical power need is 350 bar hydraulic power unit and a twin line hydraulic umbilical.
Your content goes here. Edit or remove this text inline or in the module Content settings. You can also style every aspect of this content in the module Design settings and even apply custom CSS to this text in the module Advanced settings.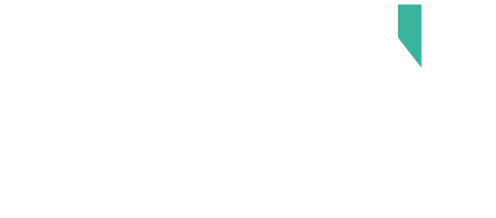 Scanmachine subsea excavator transfers proven land-based technology to the seafloor. Our machines are advanced construction excavators that have, through the addition of specialised control systems, been converted into cutting-edge ROVs.
Decades of Innovation
Decades of operational experience, combined with a continuous improvement program, ensures maximum safety, reliability and performance of the Scanmachines. The Scanmachine presents technical details as well as information about the monitoring system and specific services.
The excavators, which vary in size but share the same effective functionality, are tailored to perform based on individual client scope, offering flexibility, power and precision operations, either through dredging or excavation mode described below.
Dredging mode
One of the most used configurations of our Scanmachine is dredging mode. In dredging mode, the machine has a pumping system, usually, a slurry pump, which is project depending based on material size, relocation distance and disposal method required. Scanmudring has its own unique in house developed ScanEjectors that are continuously improved and evaluated in CFD analyses.
The standard range in size is from 4 to 16 inch (we can provide larger upon request). 4-10 inch is mostly used as part of ROV dredging spread.
Ejectors are considered the most efficient way of pumping material subsea due to benefits like:

No restriction in flow allowing large items like boulders to pass the system.

No rotating parts in contact with the material.

High water flow entering the suction nozzle, i.e. transporting surrounding material to the system.

Loose material is mixed with more than 95% of water and leaves a minimum of material build-up at the dumping location.
ScanEjectors are highly robust and can pump thousands of m3 of rock without any maintenance and repair. Twin ejector is available for 20Te and 40Te with a capacity of 5224m3/h.
Excavation 
We can equip the Scanmachine with regular excavation tools, i.e. bucket, grabs or levelling screed to perform traditional onshore excavator tasks underwater, like local relocation of large-sized materials and levelling.
The reach of the Scanmachine, which is depending on the size and boom/dipper configuration, limits rapid relocation. With standard configurations, this is limited to 20m.
Weight limits how much the Scanmachine can handle. Our largest Scanmachine is capable of lifting up to 16Te.
The Scanmachine is capable of levelling large areas in a highly efficient manner down to +/-2cm due to fully or semi-automated functions.
15Te – suitable for almost all vessel types and crane capacities.
Due to the size, with only 10x10m landing area required, the 15Te is frequently requested by renewable industry, and from 2020 also by the Aquaculture industry.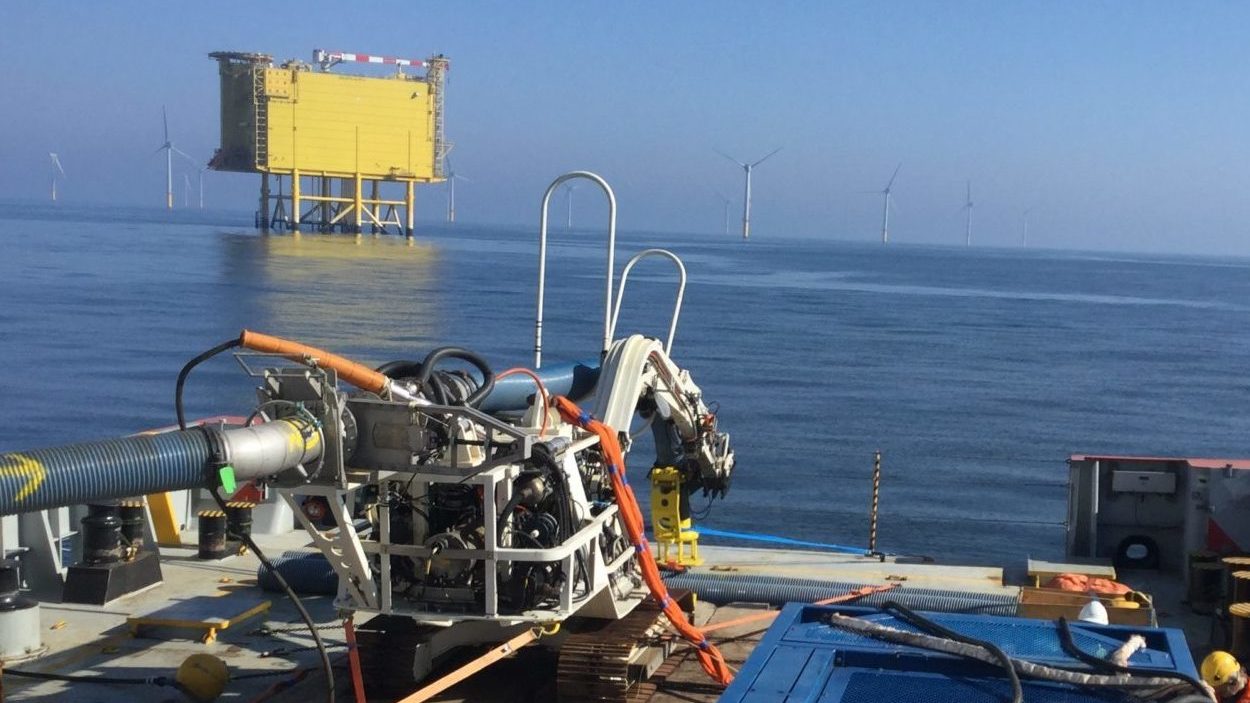 The Oil & Gas market has also kept on ordering this machine based on factors like:
other subsea operations require most of the deck space, thus leaving a small area to an excavator
required tooling or working area does not require larger lifting capacity or reach (for more information, please find technical sheet)
special configurations require limited size, like positioning the excavator in a subsea basket up a deep water steep hill hanging in the crane like presented in this Article

20Te Excavator – tailor-made for seabed preparation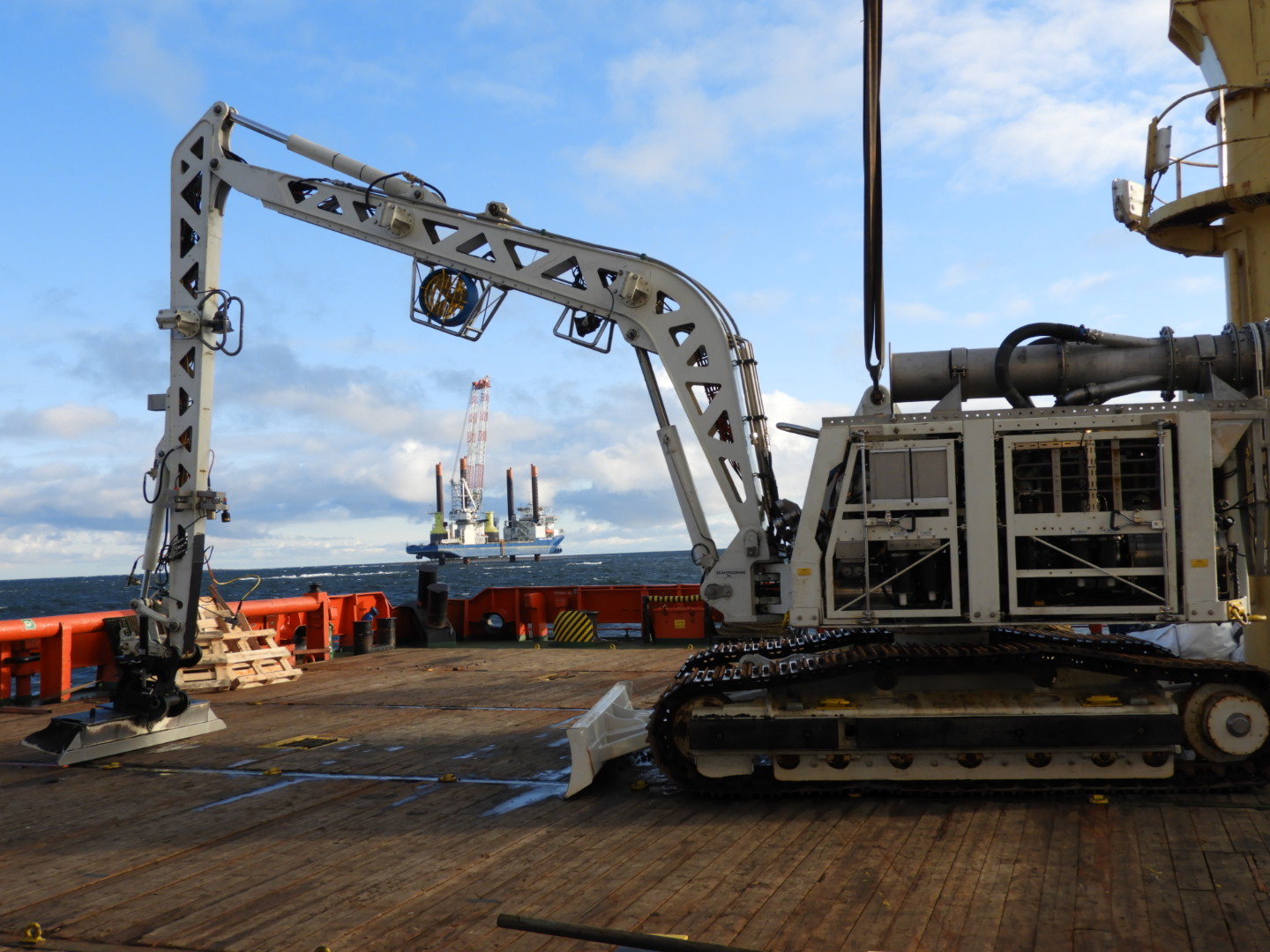 The long-reach manipulator makes the 20Te particularly suitable where one is to cover large working areas and areas with restricted access. In the illustration below, the 20Te is compared to the 15Te. A longer reach of the manipulator will reduce the number of required relocations and positioning verifications, thus giving a more efficient operation.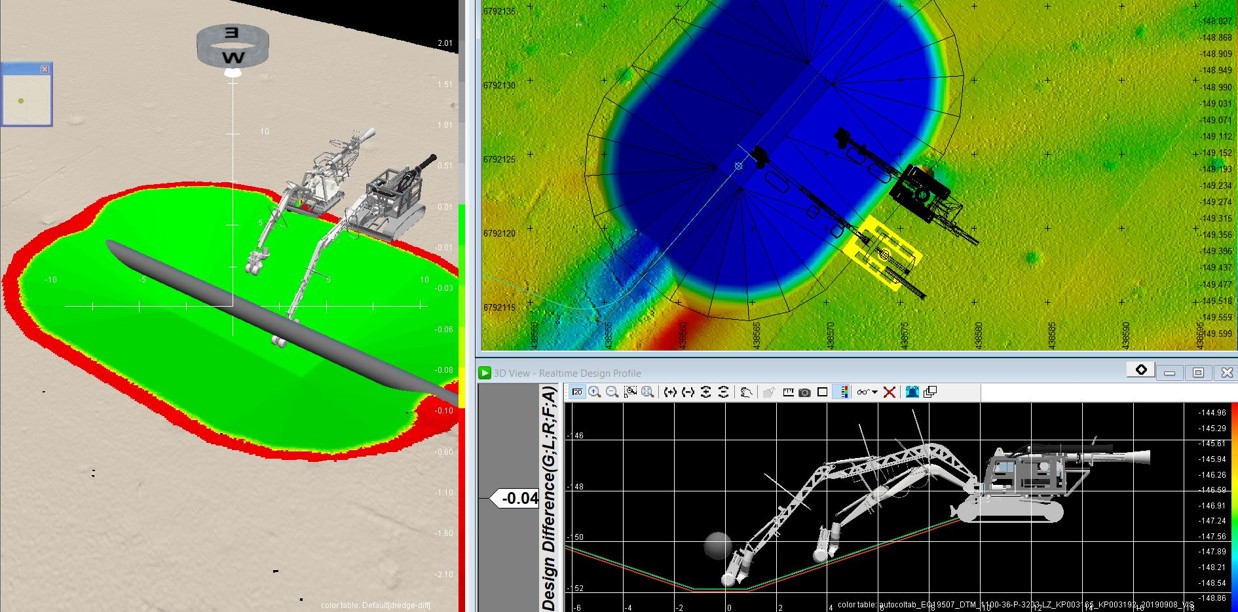 Other benefits of the 20Te:
configured with an automated levelling system, allowing for tolerances down to +/- 2cm

stronger and more mechanical strength

the lowest ground pressure
twin ejector 14" available, to optimise production rate

With the design as a ScanROV tool, this excavator's mechanical force is unique. 
The 40Te Scanmachine is equal to a typical 30Te onshore excavator. The weight of the unit (including ScanROV) ranges from 35-42Te depending on the configuration.
220kw available tooling power

Lifting capacity of 17Te at 3-meter reach and 6Te at 10m enabling a variety of new opportunities on the tool side
The picture above shows the machine configured with a 2 m3 grab. A levelling bucket can easily replace the grab for levelling, Diamond Wire Saw for cutting or ejector for areas near live assets.
Can be equipped with 19m reach for operations with, i.e. suction nozzle.
Developed specifically for operations requiring high accuracy, the ScanCrawler combines advanced ROV technologies with the design of rugged land-based construction machines.
Due to its size, it is particularly suitable for working inside structures. The ScanCrawler can be powered by and act as a subsea docking station for an ROV, or be powered by topsite HPU. The ScanCrawler logo below leads to more technical detail about this machine, its monitoring system, as well as specific services provided.
A unique monitoring system (MoS) enables safer operation and improved productivity in low visibility conditions. The system is most beneficial when operating close to live seabed assets or in projects requiring the combination of power and precision.
The ScanCrawler can be wet stored for up to 30 days.
The Scanmachine subsea excavator and tool-carrier systems are based on modified onshore excavators with a quick connection interface to various hydraulic tools.  
Scanmudring encourages the client to look at the land industry to find cost-effective solutions to their challenges. We have established a partnership with several of the largest manufacturers of tools and machines and can obtain and modify almost any device suitable for underwater use. Read about some of our proven tools here.
Finding the best tool for the subsea operation is a process involving: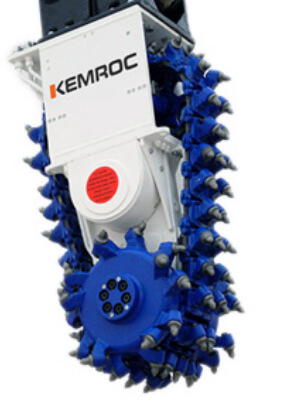 Based on scope: MPA, rebar size and dimensions; find the best-suited tool together with the various tooling manufacturers
Close dialogue with the world-leading tool manufacturers
Scanmudring specialist converting onshore tools to subsea use
The offshore crew has substantial experience with operating the same equipment onshore
Short lead time, typical 4-12 weeks from start to ready for operations
Optimised for the project-specific task and tool.
Scanmudring has several manipulator setups available, enabling customisation and optimisation of the Scanmachine to for the specific scope.
There is always a compromise between reach and force, and the Scanmachine can cover the range from 17Te@4m to 1.2Te@20m.
Use of additional dipper-arm adds a new dimension to the working area, which is us full to reach inside structures. We mostly use the Telescopic dipper to achieve a controlled linear movement of the tool.

There are various tools for various pile sizes and soil types. Our soil plug removal tools have different setups to accommodate most challenges for soil plug removal projects ranging from piles with an ID of 620 to large offshore wind piles of 5+ meters.
Different solutions
Soil plug removal is a neglected service for offshore wind foundation installation and decommissioning. With the incorrect tool, the soil plug removal can be a timely and costly exercise. We have given this more and more attention the past years.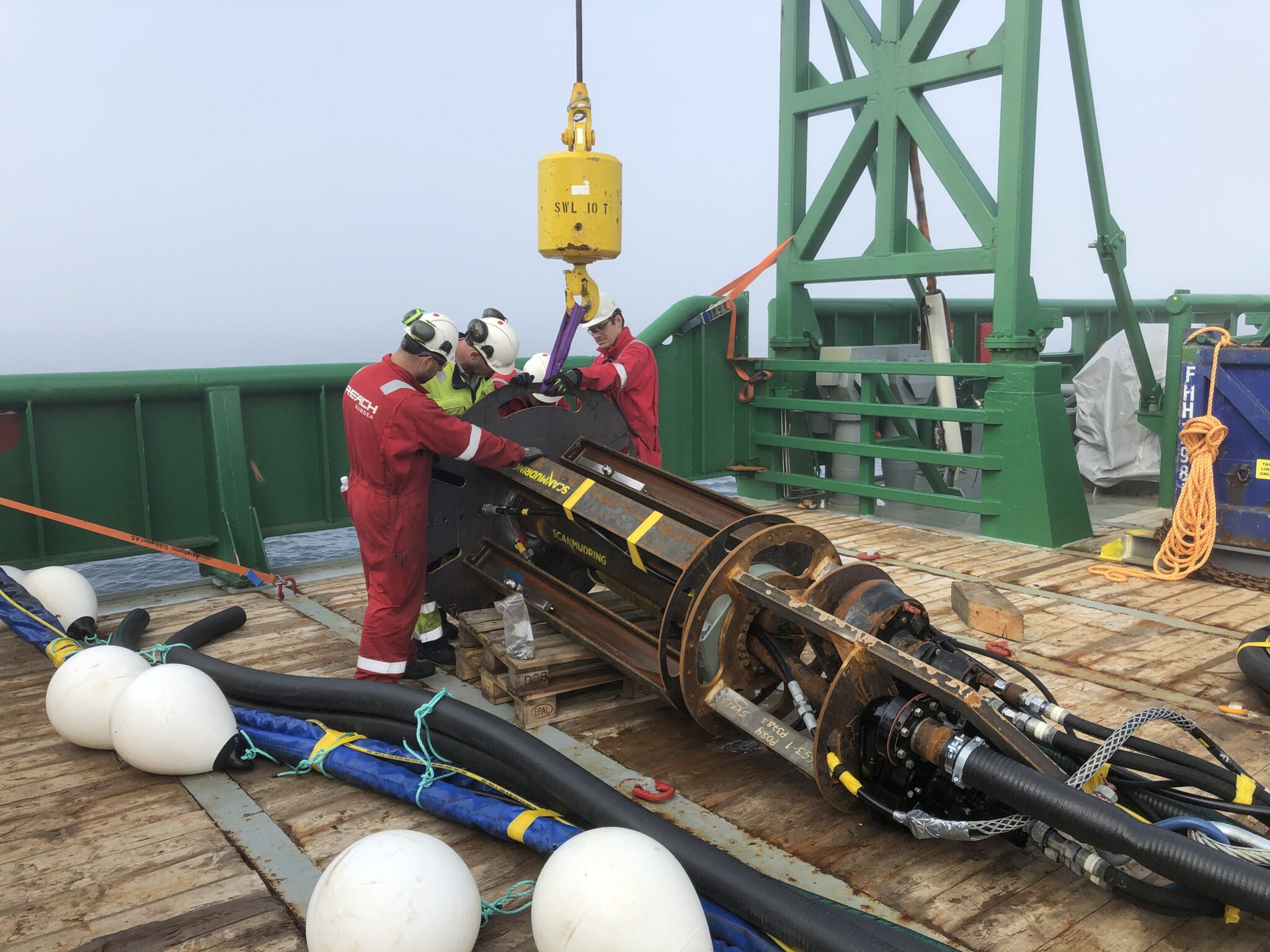 For sandy/loose materials Scanmudring can offer different suction solutions like integrated pumps on the tool, subsea suction unit and airlift, and high-pressure water.
| | |
| --- | --- |
| For more challenging seabed types like clay, chalk hard-pan or packed sand, a mechanical mixing of soil and water is the most efficient method. Scanmudring has developed soil plug removal tools with mechanical cutters and suction for consistent removal rates, specially designed for more massive piles with challenging soil conditions often found within offshore renewable- and/or decommissioning projects. | |
ScanHub & Standalone Dredge
The ScanHub and Standalone Dredge ejector system is identical to the successful approach used on the Scanmachine, which is pre-rigged on a certified lifting frame. These dredgers offer real versatility, making it suitable for operations with limited requirements in terms of dredging tolerances.
Dredging, jetting & Power/ signal distribution station
The Scanhub design and production are based on thousands of hours of experience offshore with our Scanmachines and traditional standalone dredges. The result is durable, flexible, and a reliable subsea power station, typical use are dredging, jetting and power/signal distribution station.
Also, we may fit the Scanhub with 3rd party equipment and supply power such as high voltage, low voltage, hydraulics and signal in/out.
The Scanhub may also reliably perform twin-dredge subsea assignments, giving advantages like:
Two ejectors will allow two divers or WROV to operate simultaneously
Two ejectors will let different sizes may be setup subsea, limiting the need to go to the deck to switch ejector size if dredging material to be removed varies in size
The ScanHub with the ScanArm mounted to it can have a light and camera on the dredging nozzle for visual inspection of the ongoing operation.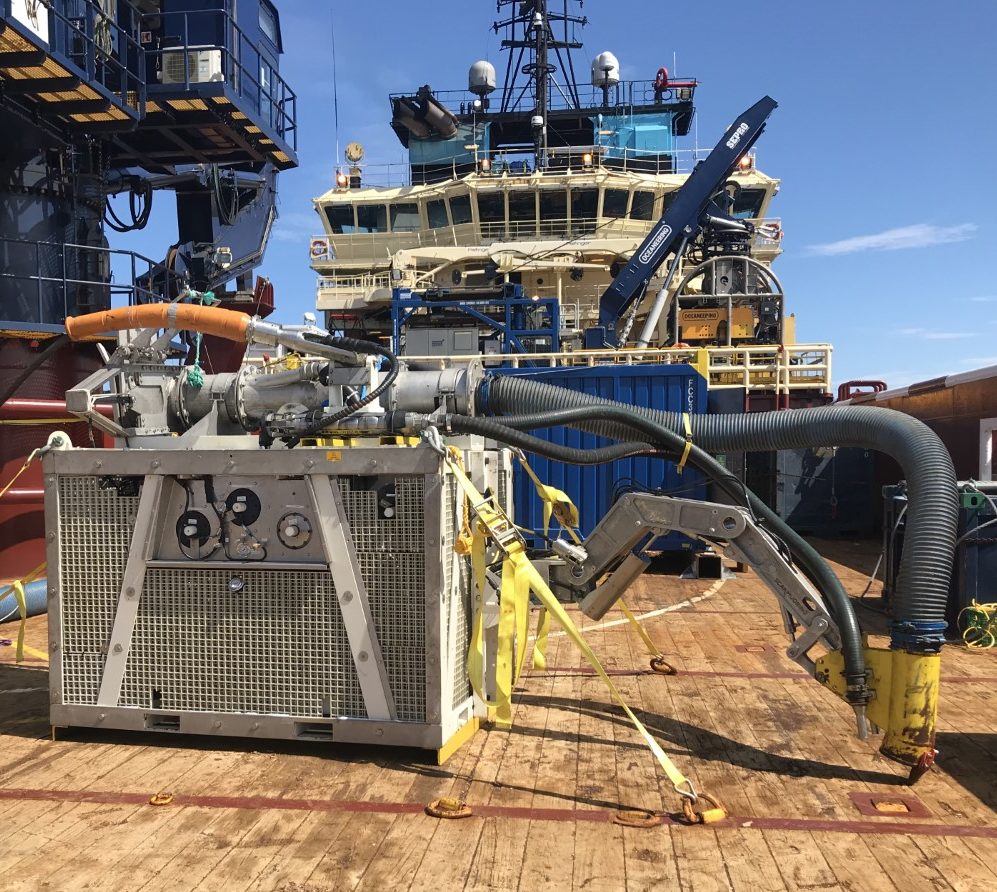 The ScanHub uses the same powerful dredgers as the Scanmachine with built-in backflush mechanism to lose up any blockings in the hose., if they occur. The ScanHub is a stable working platform which gives a controlled nozzle movement and improved precision.
The ScanHub is deployed and recovered with by use of a crane and ROV (ROV to assist with heading). Experienced Scanmudring personnel control and operate the ScanArm and system from a dedicated control container or in the ROV control room. The ScanArm itself is operated by use of a handheld controller. We can arrange a fixed exhaust pipe mounted on the ScanHub in order to dispose of materials away from the ScanHub during operation.
The Standalone dredge is used together with customers own ROVs, divers or vessel crane. The standalone dredge relocates efficiently installed rock or surrounding seabed.
Decades of operational experience, combined with a continuous improvement program, ensures maximum safety, reliability and performance of the Standalone Dredge, to provide an ideal working environment for projects at an increased depth rating.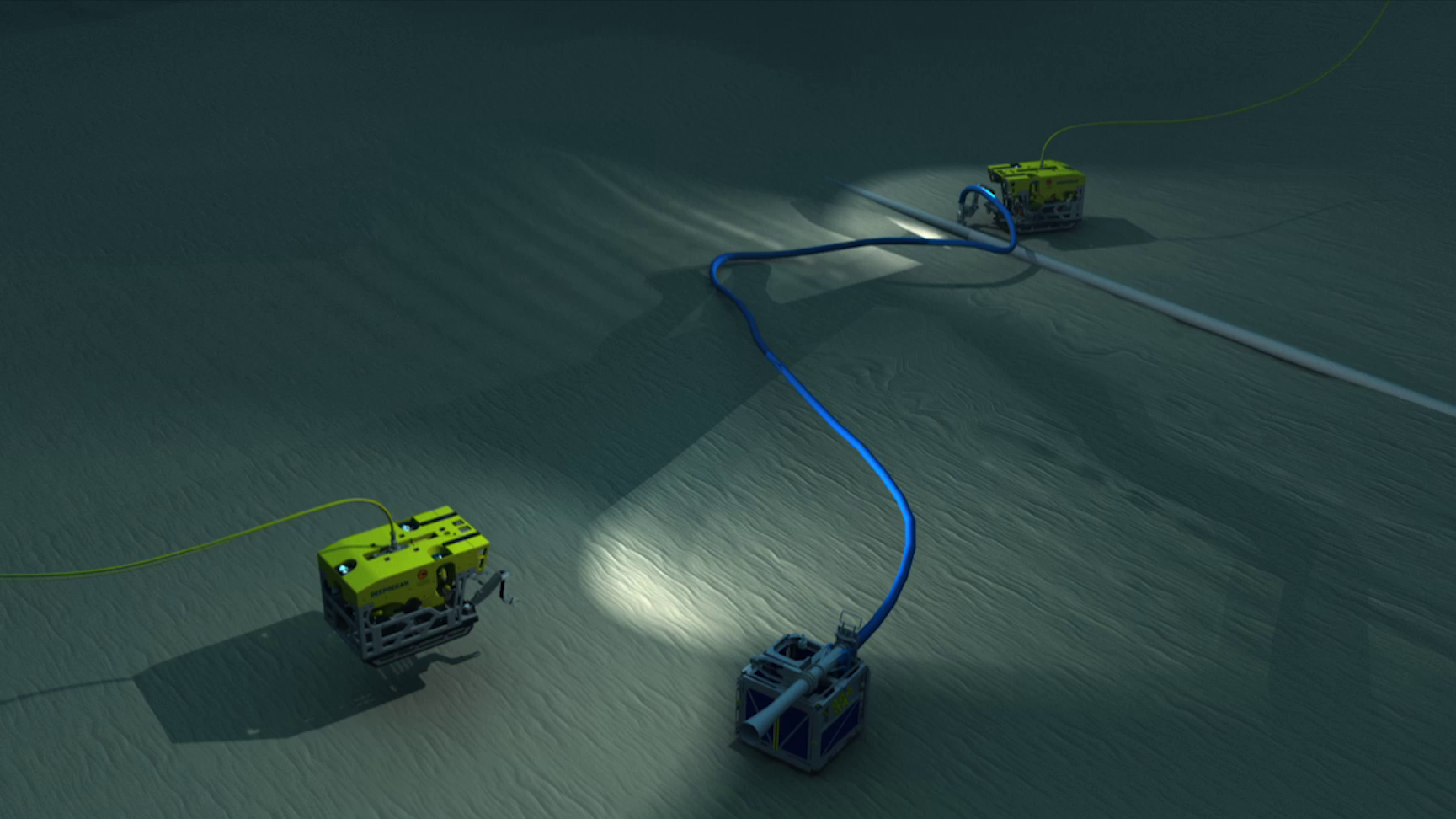 Typical Services
Seabed preparation for installation and decommissioning of subsea installations
Subsea precision excavation for repairs, hot-tapping, pile cutting and inspection
Seabed intervention work like dredging, de-burial and backfilling
Rock removal/relocation
Pipeline and cable remedial work such as de-burial for maintenance
Sections of hoses with subsea quick-connectors allow customised relocation distances (up to 140m)
Key Capabilities
Optimised jetting system for clayey material
Power & signal in/outlets for 3rd party equipment
Various shaped dredging nozzle
Project customised solutions provided
Our R&D, operations and engineering teams work as one with clients to continually refine and improve our technology and services. This ensures that we stay at the forefront of the industry, while our customers stay ahead of the game.
Scanmudring has decades of experience developing customised equipment for subsea seabed intervention, cutting solutions, hydraulics, pumping and high-pressure water solutions. Our staff has the experience, know-how and flexibility in developing bespoke solutions and problem-fixing within our niches.
Scanmudring has several strong long-term customer relationships that add value to our clients. Our courage to challenge existing technology and continuous optimisation of methods, equipment and operation is adding value around the globe.
Some examples of our bespoke solutions are:
Coating removal on X-mas tree in NCS
1.2 meter core drill for removal of cruciforms inside platform legs
Various cutting manipulators and -saws for decommissioning and IMR
High-pressure cleaning tools
Soil Plug Removal Tools
Debris removal tool
Seabed intervention tooling
Software programs for high precision seabed intervention operation
Hole Cutter (4,3m dia.)
Subsea tool changer for the Scanmachine
Do you have a challenge that requires bespoke engineering? Challenge us!
Scanmudring has a range of industry-leading high-pressure pumps with capacity up to 188 litres/minute and 2000 bars. Typical tooling for cleaning/coating removal can be ROV cleaning guns, Cleaning Rings, Jacket cleaning tools, Coating Removal Tools or grout removal.
Cleaning
Scanmudring cleaning tools are for any type of high-pressure cleaning demands. We have experience with high-pressure cleaning before inspection of members and weld seams or marine growth removal or longer cleaning lances for tight access.
We can do cleaning services with cavitations a separate service or as an integrated part of a broader scope where we can use the same multi-skilled personnel for several operations..
The ROV Dredge is an excellent and reliable dredging tool when volumes and relocation distances are limited.
The ROV dredge system is an advanced add-on dredging kit that works with most common Work Class ROVs.

The The system is assembled, operated and maintained offshore by the customer's ROV-team. Assembly is straightforward, with the ejector mounted onto the WROV and the suction nozzle connected to the ROV-manipulator arm. The power is supplied to the ejectors by water pumps connected to WROV's hydraulic outlet.
The ROV dredge may be supplied with the ScanArm to avoid damage to the ROV's standard manipulator and to improve its operational efficiency. 
4-10 inch ejector sizes available
Optional with water jetting
Optional with ScanArm
Optional with Scanmudring specialists for offshore support
5-function ROV-manipulator dedicated for dredging work.
Use of Scanarm eliminates damage to the ROV's standard manipulator and improves operational efficiency. We base the manipulator on our Scanmachine tool carrier manipulator layout and standard 5-function ROV-manipulator interface to secure the best working movements of ejector suction heads.
The ScanArm is a 5-function, rate-controlled manipulator, designed for ROV dredging operations, with nozzle sizes from 6" to 14". With an interface to dredging tools, the manipulator is tailor-made for Scanmudrings range of tools.
Hydraulic splitters
The hydraulic splitter system is a non-vibration rock breaking method. This is a good tool to use on sites where there is a restriction or ban for the use of hydraulic impact hammers or conventional blasting methods, like near to electrical supplies, gas mains, water mains, or other services that can be adversely affected by vibration and fly rock. The rock splitter is a cylinder design with 11 hydraulic pistons that push the rock towards the free face side. The system works with a single splitter or with several splitters in parallel.
Scanmudring has 4 units.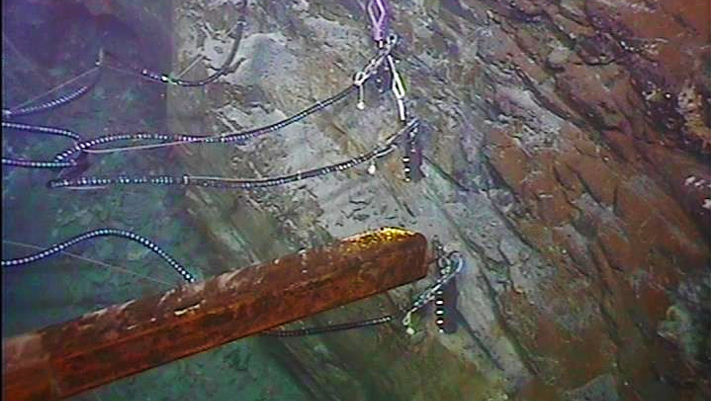 Image is from the project presented in this article where the operating pressure for the rock splitters was 1200 bar and provided and controlled by the Scanmachine. The splitting force of each piston is 19.3 tons and have a max stroke length of 29 mm. The total splitting force with one cylinder is 212 tons. The rock splitting system used on the Scanmachine has a quantity of 4 cylinders resulting in a total splitting force of 848 tons. We modified this system to subsea use with ROV friendly handlebars and quick release on the hydraulic hoses to be able to abandon splitters in case of emergency.
Drilling/ Coring Systems

Scanmudring has developed a subsea drilling system capable of setting casing and drill holes up to Ø302 mm. Applications like subsea anchoring, drilling holes for explosives, non-explosive rock splitting or underwater outcrop removal are made possible by integrating the drilling systems with our Scanmachines.
Scanmudring has several grab solutions available for boulder removal or other objects, as well as the relocation of large volumes of soil. Which is the most suitable setup and grab solution will depend on the scope of work, crane capacity of the vessel, and material. 
10Te Grab

The ScanROV GHD-10 is designed as a 10ton of-the-shelf landbased grab, customised for subsea use by Scanmudring. The grab is excellent for removal of large volumes and will have high capacities regardless of soil, also in challenging material.
In sticky clay, there is no other tool that is close to the capacity achieved and proven by this solution; this system is in the range of 3 – 6 times more effective than other existing tools in the market. The unique position system delivered by the ScanROV in combination with using a horizontal pulling winch makes both operation and relocation very efficient (the dump area is less than 20m from the excavation area).
The monitoring system PDS2000 gives valuable positioning and progress feedback. When using the ScanROV in Grab mode, the MOS calculates the most optimal grab pattern, which includes vessel position for each of the grabs.

The 3.2 cubic meters hydraulic-operated orange peel grab system has a proven track record of success in the subsea removal of rock, gravel, debris, grout bags and cofferdams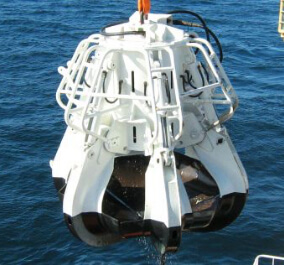 The grabber boasts a capacity of 16.5 tonnes, and is launched/recovered by a single wire standard crane or winch system, and opened/closed by remote hydraulic control.
The grab can be configured in three ways to suit the scope of individual client assignments:
with topside power or

hot-stab for WROV (most common)

powered and positioned by a ScanROV
The ScanGrab comes with two options. A shallow water solution powered by a topside HPU permanently connected to the deck, or a deep-sea solution powered by client ROV or ScanROV.

The HD Tool-Carrier is a unique power supply and control unit designed for a variety of heavy-duty tools. It can operate the 40Te Excavator, or it can power additional tooling/ intervention equipment. 
The ScanROV is configurable with a subsea chain winch for subsea positioning and relocation which enables both a fast, precise and predicable relocation/positioning.