Scanmudring's reach extends across the globe to provide Subsea construction work within various markets. From field planning to decommission tasks, Scanmudring leads the market in offering subsea construction skills and technology to cover the lifetime of field operations.
In the past years, Scanmudring has seen a growing demand for bundled IMR and Decommissioning services. There are significant efficiency gains when the same supplier can do both soil and seabed preparation, cutting and cleaning – with the same crew – in one integrated operation. 
Synergies
We bundle Scanmudring's new and existing services together, delivering:
Integrated operation – efficiency gains in providing both soil and seabed preparation, and cutting and cleaning
Crewing optimisation – lower no of the crew onboard as Scanmudring offshore personnel operate all spreads. Crewing flexibility for longer / multi-trip campaigns
Reduced contract and personnel management for all activities
Simplified mobilisation and demobilisations
One integrated supplier
For our customers, the synergies above will result in a lower overall project cost with increased flexibility. Scanmudring will continue to deliver the exceptional quality, health & safety we are known for in all our projects.
With an extensive equipment and services portfolio, as well as industry-leading personnel, Scanmudring can serve as your integrated supplier for subsea projects.
Scanmudring is a global leader in the development, manufacture and operation of advanced subsea heavy machinery.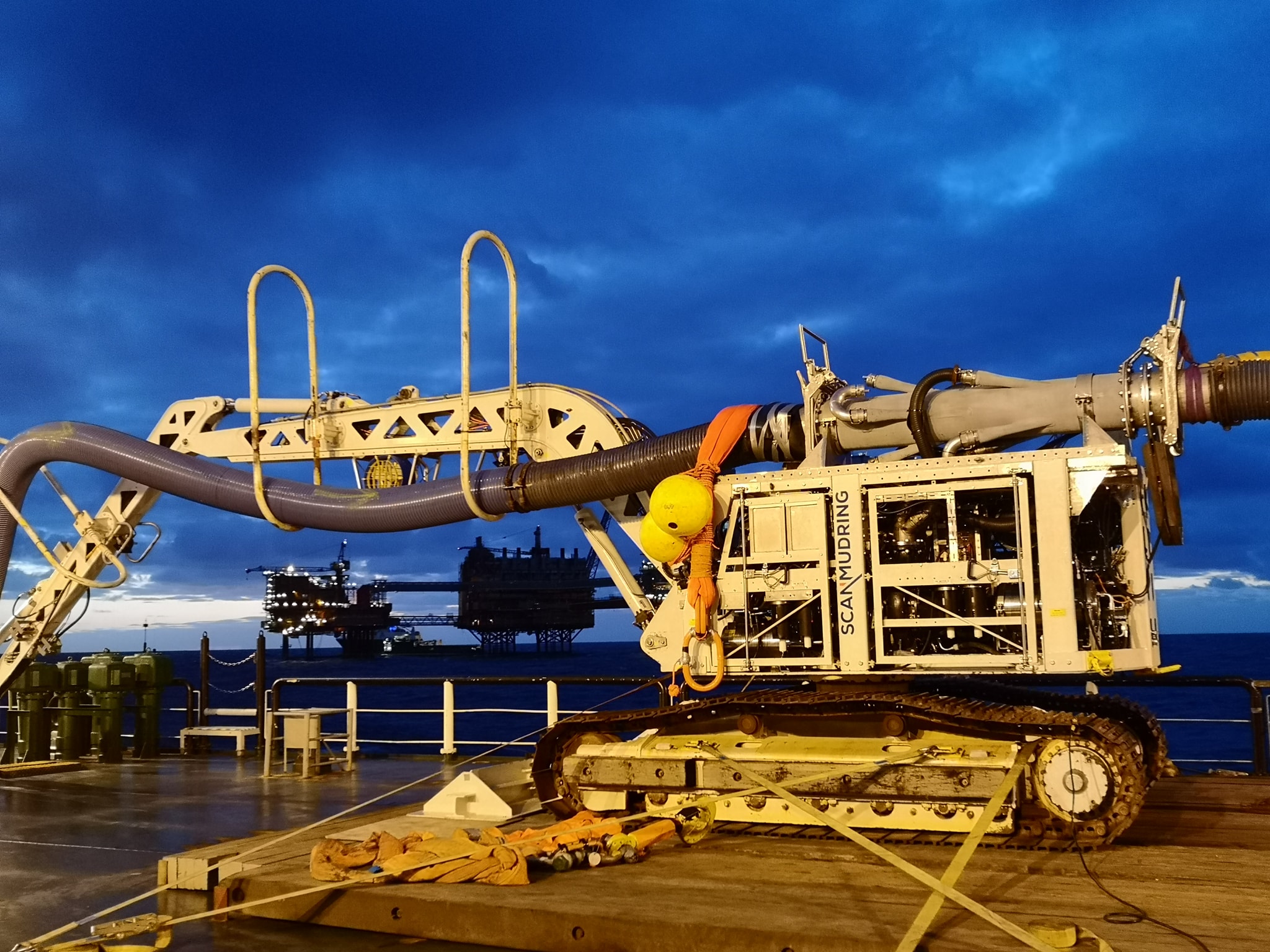 We specialise in dredging, excavation and construction work, providing unparalleled operational expertise and a solutions-orientated approach to complex assignments.
Our core business is removal or relocation of any type of seabed soil or objects close to current or future subsea installations. Scanmudring's services are as flexible as the challenges our customers face. We offer everything from comprehensive, full-service solutions performed by our highly skilled offshore personnel, to simple 'plug and play' equipment hire for the industry.
Our focus is on providing the service you need, for the results you demand, on every assignment, everywhere.
Scanmudring goal is to be a full-service provider for all services related to seabed intervention and subsea cutting within decommissioning and have personnel with decades of experience for both seabed intervention and subsea cutting operation and design. The goal is to provide a "one-stop-shop" for these services that will save time and money, increase safety and service and working seamlessly with contractor/EPRD for the end client.
One provider – Dredging and Cutting,  performed by one team
Scanmudring has an extensive track record in seabed intervention for decommissioning. Using our 40Te Scanmachine (subsea tracked excavator) allows us to work in zero visibility, in strong currents, subsea lifting capacity of 18,8Te and use the most powerful tools available for seabed intervention. Access below mud mats/seabed level for external cutting tools, drill cut removal, hard soil removal (up to 5Mpa track record), grout removal and rock replacement before jack-up installation have been successful in the past.
Scanmudring also has services for soil plug removal, diamond wire cutting, removal of internal obstacles inside jacket legs and more.