You see challenges;
we see solutions
Three decades of innovation
Scanmudring performs the most exacting assignments, in the most demanding environments to give our clients the optimum results.
We have built our reputation as the preferred choice of the energy industry through determination, passion and the ability to push the limits of subsea dredging and excavation performance. We do this through pioneering new, safe and reliable solutions anchored in our 30 years of operational experience and unique technical understanding.
Our R&D, operations and engineering teams work as one with clients to continually refine and improve our technology and services. This ensures that we stay at the forefront of the industry, while our customers stay ahead of the game.
From our state-of-the-art workshops, offices and test quay facility in Mandal, South Norway, we develop and continually improve on a unique range of high- precision proprietary equipment.
Pushing the frontiers of performance
Scanmudring has built its unrivalled subsea expertise over 30 years of conducting challenging assignments, for some of the leading names in the energy industry.
| | | | | |
| --- | --- | --- | --- | --- |
| 1985 | 2000 | 2012 | 2018 | 2019 |
Formed in 1985, we have maintained a dedication to designing, building and operating our advanced subsea dredging and excavation equipment. This commitment has seen the firm build an unbeatable portfolio of versatile, robust and high-precision technology, capable of achieving the best results in the harshest environments.
Our well-known subsea excavator, ScanMachine, provides a powerful case in point.
We have built up experience of more than 50,000 hours on the seafloor, amassing feedback, data and operational expertise that facilitates the continual improvement of our services.
Excellence always comes as standard for Scanmudring, and this has been the foundation of many successful long-term client relationships and repeats business projects.
We will continue to lead the way in the provision of outstanding subsea services and technology, tailored to ensure the success of our clients.
ISO45001:2018
(Health & Safety Management)
ISO14001:2015
(Environmental Management)
ISO9001:2015
(Quality Management)
Setting new industry standards
Scanmudring has a clear philosophy and stringent standards relating to HSEQ.
Our aim is zero harm to people, equipment and the environment while reducing risk and loss by getting it right the first time, every time.
This approach is fundamental in all our operations and the key to exceeding both customers' requirements and their expectations.
HSEQ values
Our employees live and breathe Scanmudring's HSEQ values from day one. Every new starter receives thorough HSEQ training as a critical pillar of their induction process, while all employees are always encouraged to participate and help continually improve our HSEQ programme.
Through this inclusive, yet rigorous approach, we can build consensus, dedication and universally strong standards, as we all seek to perform to the best of our ability, as a team. Effective, efficient and safe activities also help minimise our environmental footprint, while naturally supporting our overall commercial objectives and reputation.
Collaboration – together we're stronger
As a subsea contractor, collaboration and interfacing with other parties are essential to ensure we collectively achieve zero harm.
Interface arrangements are documented and communicated to our employees and the employees of the companies we work alongside. This collaboration reduces the potential for uncertainty in the field while breeding a mutually supportive culture of working together to achieve a common aim of ZERO HARM.
Continual improvement defines everything we do. We know we can always improve on our performance, and setting realistic, achievable goals allows our HSEQ values to positively evolve and develop with the changing needs of our organisation.
Management System
Scanmudring's HSEQ management system is easily accessible for all employees. It supports us as we continuously monitor and improve our services based on facts, happenings and risk mitigation. This allows us to achieve our main objective, namely: Safe and predictable projects with high operability, low downtime and excellent performance.
Our excellent customer feedback and detailed statistics from over 50,000 hours of operations on the seabed demonstrates our ability to meet this objective. Scanmudring is certified according to ISO45001:2018 (Health & Safety Management), ISO14001:2015 (Environmental Management) and ISO9001:2015 (Quality Management).
Scanmudring holds qualifications by Sellicha and Achilles and registration at FPAL.
A dynamic group of professionals leads Scanmudring. Our senior management team combines unequalled technical experience with commercial acumen and a deep understanding of the energy industry.
Pushing the frontiers of performance
Scanmudring is a company in growth and is continuously considering the need for recruitment.
In general, first and foremost, we look for people who want to be an essential part of an exciting future at Scanmudring, are hungry and wants to achieve something.
Preferred personal qualities in the positions are cooperation, significant demands on their achievements, good relationship builders and flexible for high travel activities.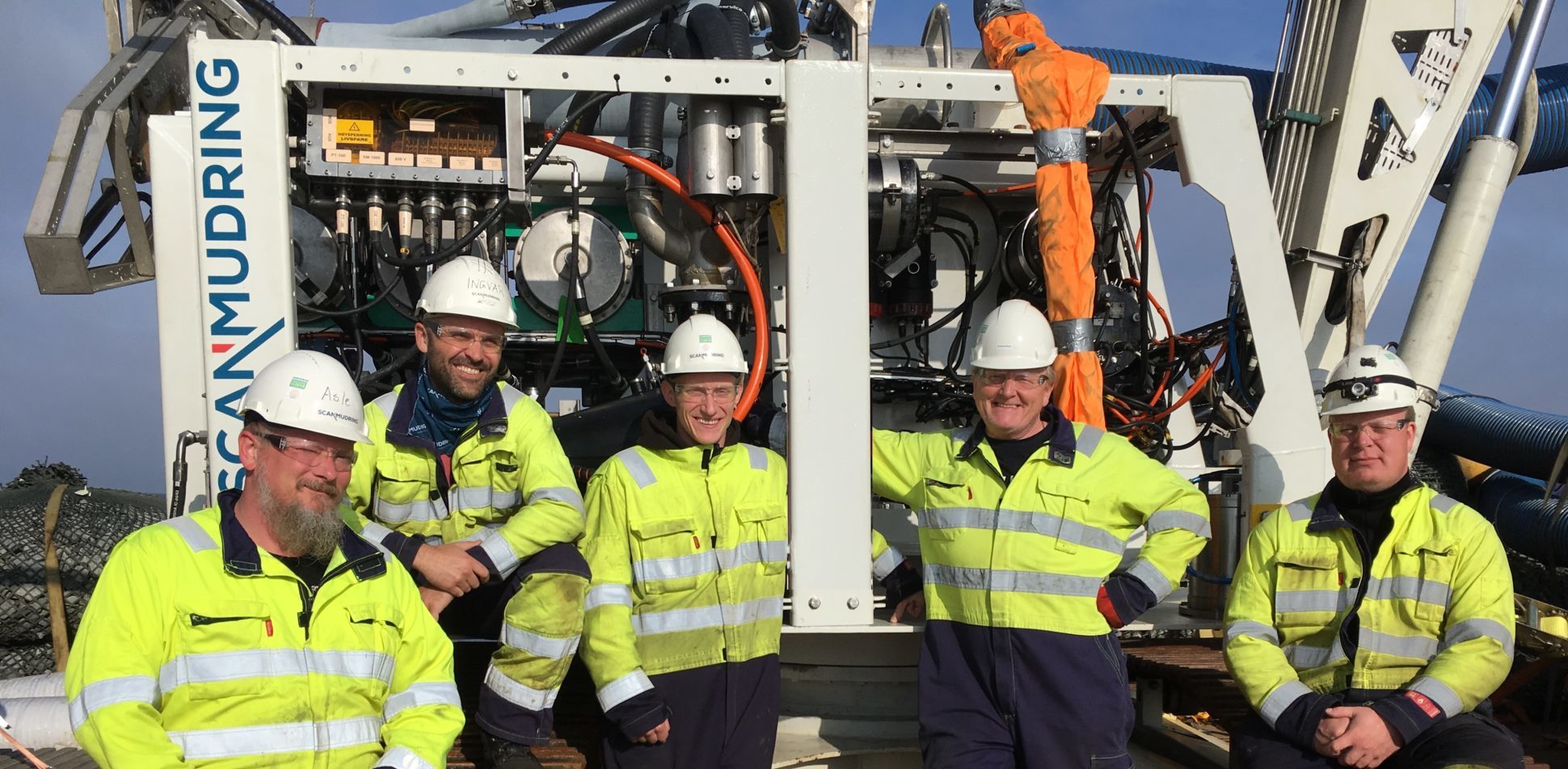 We offer a very varied and independent working day where you will work with professional customers and quality services.
In addition to good relevant background, we look for those who have an excellent technical understanding with long experience from the oil service industry, pointing towards Subsea.
We will publish open positions. If you have questions about recruitment, please contact Jarle Skjelnes, tel. +47 480 94 866/ join@scanmudring.no.