The expert within the removal of soil and rock, cutting & cleaning services for offshore wind
Scanmudring has a wide range of services, including significant experience and expertise related to services where one typically use subcontractors in the offshore wind industry. .
There are several benefits to choosing Scanmudring as your partner, both for safety and for efficiency
Diver-less operation
Working independently without ROV
Able to work in a strong current and poor visibility
Our teams have the benefit of experience from thousands of offshore projects, giving them unmatched collective industry expertise.
0Front End Engineering Design

Scanmudring can provide services from the concept studies through offshore execution and completion.
Our specialists find solutions for:
Seabed preparation and cable route optimisation

Rock Installation/ levelling
Cutting solution for non-standard/bespoke solution
Decommissioning- and commissioning services
Support for special tasks, like UXO projects
The studies focus on making the right operational choices, reduction of cost and risk. We aim to minimise downtime while maximising end-client savings.
Our FEED studies can also consider health, safety and environmental aspects (HSE).
For more information on what to consider in the planning phase, these articles summarise some factors:
Subsea challenges – how to be prepared
The images below show testing various levelling tools together with the client to tolerance requirements are met for GBS installations..
Due to demand for new technology and solutions requested by operators, Scanmudring has developed, built and used more new equipment over the recent years than in the rest of the company's 35-years long history. Following this strategy, we have contributed to cost-effective solutions for the development of many offshore wind locations.
Capable of Working in Strong Currents
The Scanmachine is a remote operated and highly efficient subsea excavator not affected by strong current often present in offshore windfarm locations, giving added value in terms of both safety and efficiency.
No boulder is too big – our proven expertise related to drilling and rock splitting makes us capable of removing any size of boulders by use of grab systems, Scanmachines or a combination.
Examples:
de-burial of UXO
carefully handling and lifting of UXO
relocation of boulders
splitting of large boulders
Trenching in all Types of Seabed and Water Depth

Scanmudring can offer various methods in trenching in general and unique areas where ordinary trenchers struggle due to:
hard material
curves and shapes are required
difficult access (the manipulator has 9 m reach)
Steep slopes
Shore approach
Our system offers several services related to the installation of offshore wind farms, giving synergies related to bundling these services. Our approach is plug and play-based with a relative low mobilisation cost (within 24hrs) on most types of offshore vessels.
High Precision Shaping and Levelling of Natural Seabed & Gravel/ Rock
Traditional methods may not be allowed due to existing infrastructure. The Scanmachine and it's tooling provides a controlled and efficient way of working.
The operation is highly controlled through the monitoring system, which supports precision work and accurate results, especially when working near subsea assets, or if the work task requires levelling/ shape work. For fine-tuning and compressing rock dump/gravel before installation of gravity-based structures, the Scanmachine would offer an efficient method statement to ensure the most stable foundation. Tolerances down to +/- 2-3cm have been achieved subsea in poor visibility.
The images below are from both onshore testing and project execution. Before the offshore campaign, we tested various tools to ensure the lowest tolerances for preparation of several GBS foundations.
Installation of Rock not Accessible for a Rock Dumpr
Rock installation is the most common way of preventing scouring around maritime structures such as offshore platforms and rigs. The example below shows both the subsea excavator (Scanmachine) and the Scancrawler utilised in simps for pumping gravel inside at subtraction jacket. They both connect at the exhaust end. The excavator works on the lumps of gravel outside the structure, pumping the material through to the crawler. The crawler places and levels out the rock inside the structure.
Other installation methods could be performed by buckets or grab mounted on the Scanmachine and subsea lifting of filter bags into areas out of reach for crane operations.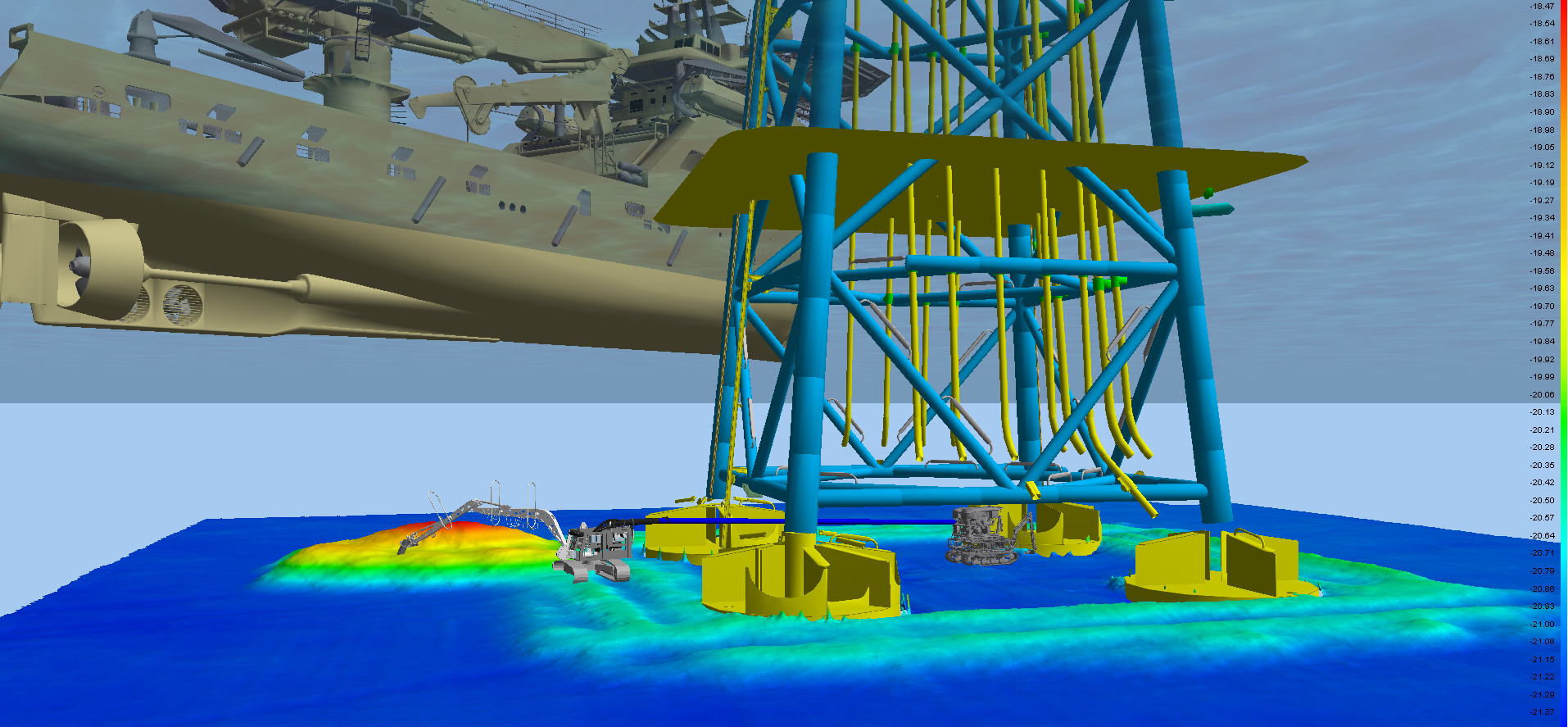 Scanmudring has more than four decades of high-pressure water jetting experience. Cleaning a pile before grouting sounds easy at first sight, but knowing the details of the marine growth, water depth required flow and pressure, nozzle size and speed are critical variables for a clean surface. In addition to this, the cleaning operation should finish as quickly as possible without compromising on QHSE. Scanmudring can clean piles down to SA 1.5 and upward to SA 2.5. A typical wind farm installation requires SA 2.0. Scanmudring can calculate, design, manufacture and operate either a standard or bespoke cleaning tool for cleaning piles to the level of cleanliness needed or give input on time required in a tender/planning phase. We have various concepts and tools for both external- and internal pile cleaning on different pile sizes.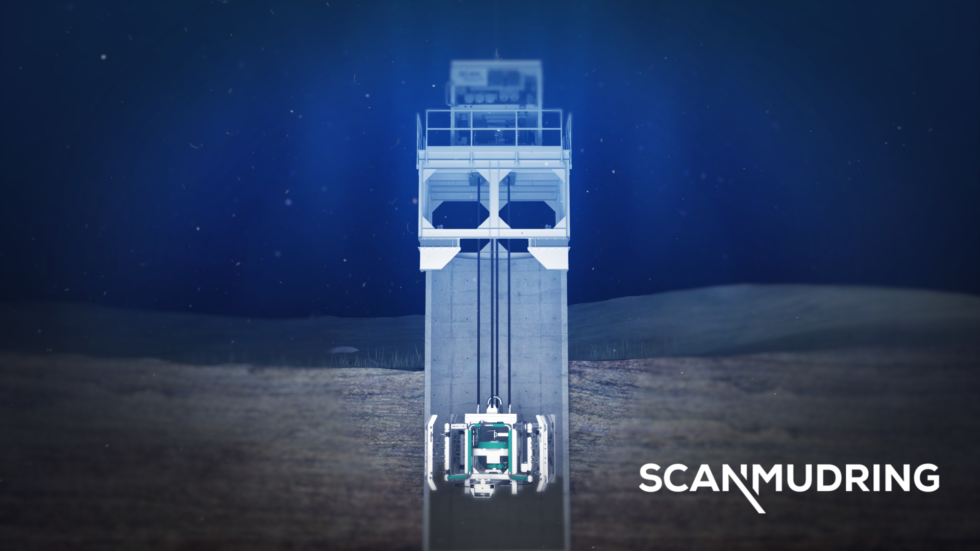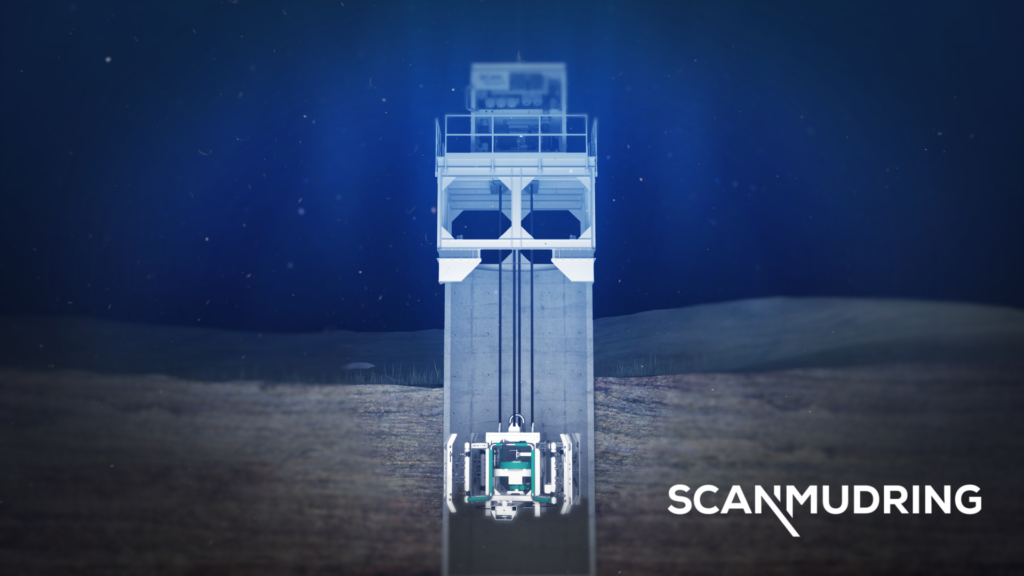 Picture of an internal pile cleaning tool (IPCT)
Soil Plug Removal for Any Type of Seabed Condition
From the smallest piles to largest monopiles, Scanmudring has existing and bespoke solutions for soil plug removal and rock removal inside the pile. When removing soil inside a pile knowledge of soil conditions is essential. The seabed logs are not always accurate, and the seabed conditions can be quite heterogeneous over a small area. Therefore, it is crucial with tools that can handle anything from loose sand to hard and sticky clay, rocks and anything in between. Scanmudring has developed several soil plug removal tools in the past with both high-pressure water and mechanical cutting technology. Some tools are very short in order to reach under a topside in very shallow waters, while other tools cover a large dimension pile with focus on high removal rates. The flexibility and predictability are important factors for a successful operation. With Scanmudring's experience operating in various seabed conditions and several thousand hours of operational experience over five decades, Scanmudring is considered the industry leader in this service.
Removal and Re-installation of Rock Protection or Seabed Material

Scanmudring has executed several cable de-burial/burial projects. With the use of our Scanmachines rocks or soil can carefully, and with high precision, be removed from the defined area allowing access for the cable to be repaired/changed. Achieved removal rates of up to 50 m3/hour has been recorded for rocks, pending on location, access and seabed conditions.
During operation, the Scanmachine can temporarily store the removed rocks at a pre-defined location and then re-install the rocks after the cable is intact. If required, due to the safety zone, we can work offset of the vessel. Our system can be operated in high current areas, independent of ROV.
Installation of Rock in Inaccessible Areas
In operational fields, there can be restrictions like access and safety zones, making it challenging to install scour protection layers. The Scanmachine can perform this remotely from the vessel, either by pumping or lifting the rocks with high precision to pre-defined areas.
Decommissioning projects often categorise as complex operations. Scanmudring urges our clients to utilise our team's expertise from the outset of all projects, bringing unique skills and experience to the planning of complex operations providing a firm foundation for the optimum in project safety, efficiency and success. We have the necessary tools and expertise to overcome the challenges.
Scanmudring has a history of completing many North Sea Decommissioning projects in very challenging conditions. Tasks typically range from debris control, mud mat removal, grout and drill cutting relocation and excavation for external cutting.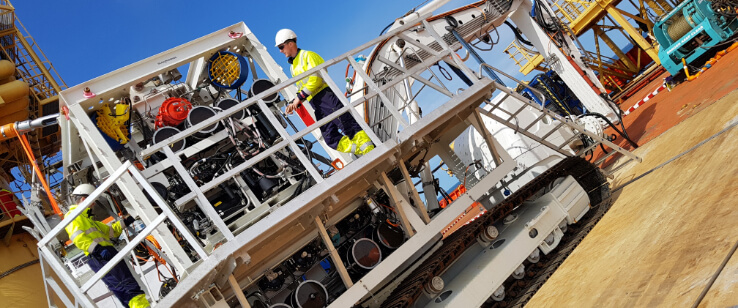 Decommissioning projects often categorise as complex operations. Scanmudring urges our clients to utilise our team's expertise from the outset of all projects, bringing unique skills and experience to the planning of complex operations providing a firm foundation for the optimum in project safety, efficiency and success.
One provider – dredging and cutting, both operations performed by a subsea excavator
Much of the sediments removed before external cutting is related to creating access for the ROV to enter into the hole for connecting and powering the DWS. By connecting the DWS to the Scanmachine manipulator, it is possible to stand on the natural seabed level with the Scanmachine and preform the cut with less pre‐dredging.
Cutting & Cleaning services
In the past years, Scanmudring has seen a growing demand for bundled decommissioning services. There are significant efficiency gains when the same supplier can do both soil and seabed preparation, cutting and cleaning – with the same crew – in one integrated operation. This results in savings for customers, increased efficiency offshore, and consistent quality in work delivered. Scanmudring has strengthened the organisation with several key persons within specific segments and offers expertise and a wide array of services within subsea cutting and cleaning.