Image Caption: Simulating pre- and post-dredging at one location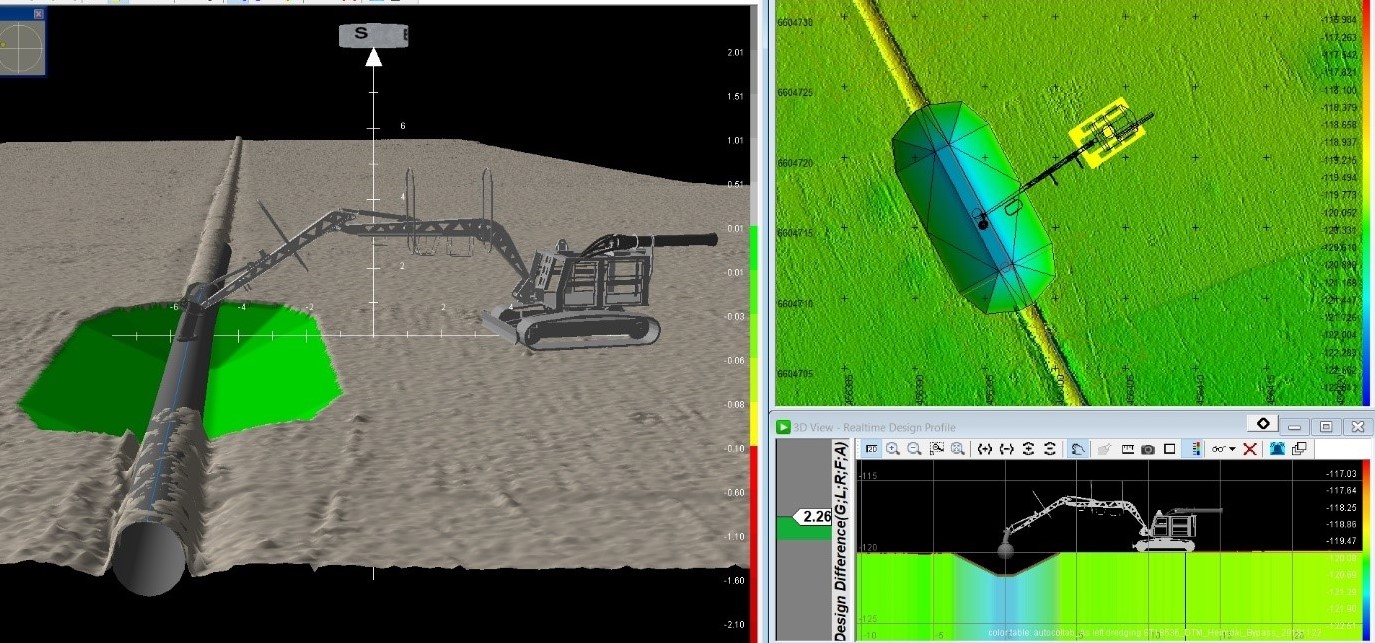 Challenges
The dredging was to be carried out near existing subsea assets right outside the 100 meters safety zone of the respective platforms, so planning and safety aspects had to be made accordingly
A lot of 

equipment were to be mobilised for this campaign, and 

to ensure an efficient mobilisation and offshore campaign, both Scanmudring and the client had to be well prepared to maximize project execution. Scanmudring used our simulation tool to give input on the production rate based on the information received 

There were some deposit areas defined by the client which required the use of exhaust system. As repositioning of hoses and cribs could be very time-consuming, Scanmudring recommended the opposite approach; defining an area where no dumping was allowed and limit the use of exhaust system to a minimum.
Specific Tooling
20Te Scanmachine spread including
1,5m extended plastic suction nozzle
Exhaust system for high precision on placement of material
Emergency umbilical cutter
14" ejector
Image Caption: Example of operator's camera view during dredging
Dredging
Dredging material was specified as sand, but this turned out to be clay at all locations. Within only 40m, the soil varied from very soft clay to stiff clay. The Scanmachine was able to track at all locations.
The plastic nozzle was important to be able to complete SOW area with soft seabed. The client offshore requested the holes to be dredged slightly deeper than originally planned.
Rock berm removal at pipe crossing location
The rockdump at the levelling location consisted of 5" rocks. A 3,5m wide corridor was prepared above existing pipeline with top of pipe visible. Slope from natural seabed to top of pipe on both sides of pipeline.
The levelling was completed without use of exhaust hoses. Boom slew on the 20Te machine was ideal for directing the exhaust in a fixed direction for the crossing location
Image Caption: 20Te Scanmachine with extended suction nozzle on deck
Conclusion / Lessons Learned
The project was executed both safely and efficient thanks to well prepared and proactive personnel from all parties involved
There were no breakdowns or failure during the project

Data from soil reports may not be accurate, and this was the learning from this project. Local variation was extensive, and the sand that was expected turned out to be everything from soft to stiff clay

The 20Te Scanmachine was the correct excavator for this operation; the challenging clay at one of the locations required the forces of this machine and the manipulator reach limited the need for many relocations.